Press release and images on What the country could learn from two Lankan youth entrepreneurs from Dilmah
Menu
Dilmah Food Service
Integrity & Ethics
Dilmah Tea Inspired
Leisure and Hospitality
Knowledge & Training
Online Shop
What the country could learn from two Lankan youth entrepreneurs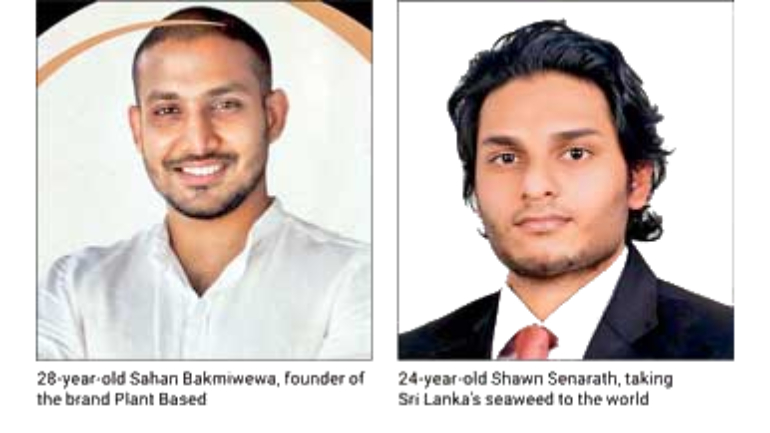 Do not be afraid. Especially do not be afraid to think big. Very big. And do not give up. I have been at this for nine years and there were times when I almost folded up, drained and exhausted – Sahan Bakmiwewa
Exploitation, whether it is of people or the planet, cannot bring happiness or prosperity to a business. What brings prosperity and success to a business is a path of wealth creation that creates humaneness, wellbeing and ushers in a higher sense of sustainability and purpose for all – Shawn Senarath
In the backdrop of COVID lockdown and the economic crisis centred restriction of many import items, there were local idealists – ignored and lost in the crisis syndrome of Sri Lanka – who were dreaming up their own Lankan substitute luxury products, ranging from cosmetics and shampoos to food items.
They had ideas that could not be suffocated. They were thinking, researching, plotting, planning and above all acting. Their key inspiration was the earth and the bounty that sprang from it. What motivated them was the urge to innovate and what kept them on the path of consistency was idealism; the utmost belief that it can be done.
In this story we feature two youth, below the age of 30 who have strived for excellence using natural resources largely ignored in Sri Lanka and who are daily bringing in foreign currency to the country.
28-year-old Sahan Bakmiwewa and his wife, inspired by a pro-vegan documentary, had around three years ago decided to become plant-based eaters. Their resolution could not last more than a few days as they found that there were no vegan products that suited their cuisine choices.
This inspired Sahan to expand an entrepreneurship venture that he had begun researching and establishing while in his teens; looking at globalising the ancient wellness heritage of Sri Lanka using the island's herbs and spices under the product brand Ancient Nutraceuticals.
After being attracted by the choice of a plant-based diet, he established the locally based international vegan brand Plant Based. Recruiting international business promoters across the world, while providing employment to rural village families who are part of the agrarian economy, Sahan's brand Plant Based is run under his manufacturing chain Silk Cooperation, of Silk Route Ventures Ltd. The company is barely 10 years old, begun when Sahan was 19 years old and now operates in four continents, has five offices in seven countries and produces over 1,000 products.
His company was moulded into his idea of utilising and maximising while also assisting to conserve, often ignored rural plant, herb and spice produce of Sri Lanka.
His product is a unique blend of using modern science and technology and juxtaposing it with the traditional, rooted in the philosophical ideal of serving the wellbeing of planet, human and all living creatures.
What is his advice to young people who want to start something of their own?
"Do not be afraid. Especially do not be afraid to think big. Very big. And do not give up. I have been at this for nine years and there were times when I almost folded up, drained and exhausted," he recalls. One particular time he was almost incapacitated with exhaustion was when he had to visit government departments repeatedly to set up his manufacturing plant in Hapugasyaya, Matale. He expected to receive the official permission for the project in a month. It took well over a year.
He says, "There are many government institutions that are involved in providing clearances for projects. These institutions include the National Building Research Organisation (NBRO), the Urban Development Authority (UDA), the Water Resource Board, the Labour Department, the Central Environmental Authority (CEA) and the Ceylon Electricity Board (CEB). It would greatly help if a uniform platform or system is developed to get these clearances conveniently and possibly under one roof. It will encourage investors and manufacturers whose projects are vital to promote the Lankan economy at a time when such support is crucially needed," he said.
"I started only with an idea and an ideal," to promote the multitude of inconspicuous plants, herbs and spices that are life-health resources and to try and carve out a path of wellbeing to many in different ways.
The creation and export of health promoting Lankan herb products through the Ancient Nutraceutical brand served many people internationally during a globally health challenged time."
"Plant Based creates a vegan food alternative for the international palate, to promote undervalued or underestimated plant ingredients of Sri Lanka. We have started teaming up with many likeminded stakeholders such as Dilmah and GoodLife X when we were chosen to be supported in the Genesis and Lost Ingredients Lab program ushered in by those two organisations, to identify and support entrepreneurs working to promote local plant varieties."
The products by Plant Based include vegan nuggets and vegan burger patty made with a base of young jackfruit and oyster mushrooms, cashew cheese with oregano, vegan crispy chicken, coconut-based milk and cheese, vegan mayonnaise, soy milk powder and oat milk. At a minimum average we provide village based employment to about 45 persons.
At a peak as per the orders we employ over double that number," he explains, stating that so far the company deals with 41 countries including EU nations, the US and Australia.
Naming his company Silk Cooperation he has attempted to capture an element of nostalgia connected with the historic trade route that linked Asia and the Mediterranean from the second century B.C. until the 14th century A.D. Sahan was among six entrepreneurs who presented business pitches to an international audience, especially to capture the EU markets, at the culmination end last month, of a year-long support system introduced by Dilmah as part of its Genesis entrepreneur support hub and Good Life X, supported by the EU, BMZ and GIZ.
It could be said that an entrepreneur is essentially a miracle worker, creating capital where it is not there. Those who do so in complete success are those who use the path of capital creation not for exploitation as the theory of Karl Marx points out, but for the exact opposite; bringing dignity, hope, equality and wealth to as many as possible.
"To commence the journey of revenue creation an entrepreneur must be able to see opportunities where others do not," says 24-year-old Shawn Senarath who, inspired by two other friends, has seen edible and cosmetic product opportunity in a sea resource the whole nation has been blind to for the past decades.
"Exploitation, whether it is of people or the planet, cannot bring happiness or prosperity to a business. What brings prosperity and success to a business is a path of wealth creation that creates humaneness, wellbeing and ushers in a higher sense of sustainability and purpose for all," says Shawn who is one of the pioneers in seaweed farming in Sri Lanka and has co-founded his company; Ceylon Aqua & Agri to maximise the potential of Lankan seaweed, including edible and cosmetic products, made to a global market and following the highest of international standards.
How did he come up with choosing seaweed for his business focus?
"From the time of my early teens, I spent a lot of time with my friends watching different YouTube videos about diverse global entrepreneurship ventures and discussing different business ideas. We came up with many potential options of natural resources to start a chain of lucrative global industry and finally mutually agreed and settled with the idea of using a range of land based agrarian products for different brand specialisation and especially manufacturing hitherto un-thought of products with seaweed," he says.
While cultivating and manufacturing a range of agrarian products, the company started by Shawn and his friends today cultivate seaweed in sea-farms in Jaffna and Mannar carrying out the drying of the seaweed at a specialised in house facility, as it explores the tremendous scope of industrial seaweed farming in Sri Lanka, to serve a range of global product needs.
At present the seaweed brands produced by the company include WildCrafted, Edible Sea Moss and Seashore Garden.
The Edible range includes dried seaweed and sea moss which could be interspersed with any food item.
"The core component of the seaweed is carrageenan and is a natural carbohydrate which is found in red seaweed and the Sri Lankan seaweed farmed by us exceed the required global quality," says Shawn who believes that seaweed will be the next major hit in aqua culture for Sri Lanka.
He throws more light on this still rare business in Sri Lanka; "In seaweed farming what we consider as key elements are sustainability and quality. We choose the best sea weed seeds and the cultivation is carried out for 50 days after which the harvesting and drying is done using a process where we follow the highest global standards."
"For creating our seaweed products the key human resource for us are the fishing communities and entrepreneurs in the north. We work in accordance with the regulations of NARA and the Sri Lankan government as we plan further expansion and are looking for suitable collaborators," he states.
The nutritional value of seaweed maybe little known in Sri Lanka, although we have the sea right around us.
Therefore for this island nation, the scope for seaweed cultivation is immense and holds the possibility of being equal to what tea has become for Sri Lanka.
Algae, the variety of sea weed identified as sea moss is especially known to be high in nutrition such as vitamin A, C and E and are high in antioxidants. Among the seaweed varieties that could be farmed commercially are sargassum, gracilaria, caulerpa racemosa and lentilifera.
Shawn Senarath points out that his company is a partner with the international seaweed association and a local research and field collaborator with NAQDA and NARA in addition to liaising with and being part of many similar international bodies.
In analysing the narrations by the above two young entrepreneurs, what is evidenced is that the best time frame for bold business creation is youth.
It would therefore be highly beneficial if Sri Lankan educational authorities and policy makers engaged in educational reforms seek the assistance of young entrepreneurs such as these to create educational material at school level that will boost mental stimulus in idea creation to assist direly needed entrepreneurship boosting in the country.
The best solution for any crisis linked with the economy is to do whatever that needs to be done to create job givers. Hence, an education system that prepares only job takers (those who develop a mentality that a paper certificate will provide a 'permanent' job and that memorisation will get them there), has to be done away with.
The assistance of artistes, entrepreneurs and all those who have dared to take risks, and create anew, who have veered from the path of monotony, despite all obstacles and achieved their mark, has to be considered national assets. Their assistance should be engaged primarily for revitalising, re-energising and crafting an education system no child or youth or adult would ever be bored with which will directly contribute to visibly seen results in job creation.
The interviews with the above entrepreneurs were facilitated by the Genesis project of Dilmah in collaboration with GoodLifeX. We will be featuring more entrepreneurs who have broken new ground in business ideas that link revenue creation with humane ideals and values.
Disclaimer Notice
These images are copyright protected and can only be used for Dilmah articles with due credit given.