Press release and images on We care about nature from Dilmah
Menu
Dilmah Food Service
Integrity & Ethics
Dilmah Tea Inspired
Leisure and Hospitality
Knowledge & Training
Online Shop
We care about nature
We care about nature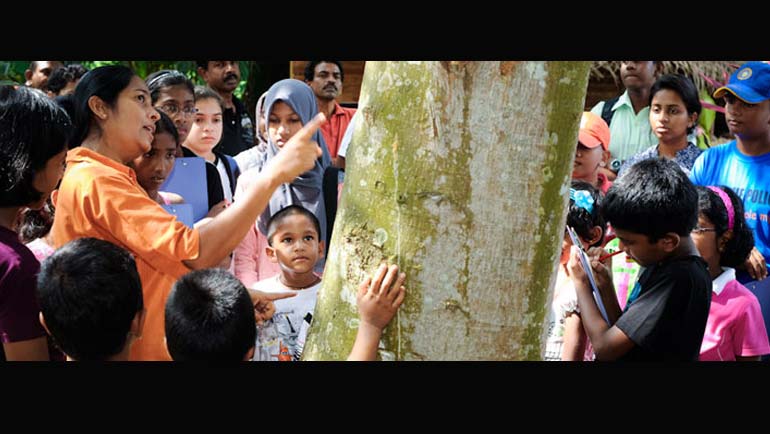 The philosophy of Business as a Matter of Human Service underpinned by the six pillars of Quality, Tradition, Our Customer, Ethics, Integrity and Sustainability is central to Dilmah's enterprise. Dilmah Conservation firmly believes in the importance of making a conscious effort to uphold these responsibilities to both society and the environment. -Who Cares about Nature' served as a unique forum to share these values and promote the importance of sustainability and conservation with a wider audience. The event that took place on 24 and 25 January 2014 at the Lakshman Kadiragamar Institute for International Relations and Strategic Studies.
The key themes of -Who Cares about Nature' focused on the role of business in serving community and environment and man in the natural ecosystem. The programme featured a series of events highlighting these themes in relation to the importance of mainstreaming sustainability, conserving Sri Lanka's biological wealth, restoring ecosystems, gathering of data, information and facts for the advancement of knowledge, supporting environment and nature education, and empowering indigenous communities.
Speaking at the event, Founder of Dilmah, Merrill J. Fernando stated, 'Dilmah owes its success to the quality of Ceylon Tea. Our business was founded therefore on an enduring connection to the land and the communities in which we operate. We have pioneered a comprehensive commitment to minimizing our impact on the planet, fostering respect for the environment and ensuring its protection by encouraging a harmonious coexistence of man and nature. We believe that conservation is ultimately about people and the future of the human race, that efforts in conservation have associated human well-being and poverty reduction outcomes. These core values allow us to meet and exceed our customers' expectations of sustainability. My sons, Dilhan and Malik, and I are joined by the third generation of the Dilmah Family in our dedication to this cause. Together we reaffirm the unshakeable family commitment to the values that make Dilmah much more than just another tea".
At the inauguration ceremony of-Who Cares about Nature' the Founder also undertook a pledge to make Dilmah Carbon Neutral by the year 2017 and a commitment of an annual expenditure of 1 Million USD for nature conservation and community upliftment programmes.
Further, in an effort to mark the significance of social integration in post-war Sri Lanka, Dilmah Conservation accorded special attention to nature appreciation and collective environmental responsibility as a medium for fostering reconciliation. 120 students and 40 teachers from the Northern Province representing Nature Appreciation Clubs formed as a part of its Reconciliation through the Power of Nature initiative were hosted at this event to encourage greater social interaction and integration. These students were also provided with the opportunity to participate in a competitive quiz aimed at raising environmental awareness and were granted valuable prizes to encourage their interest in nature studies.
Key highlights of the event included a series of educational and recreational programmes including a special guest lecture by Dr. Bill Jackson - Chief Executive of Parks Victoria, Australia and former Deputy Director General of the IUCN. A significant portion of-Who Cares about Nature' was designed to examine the necessity of environmental education. A panel discussion, titled-Reconciliation through the Power of Nature' headed by Hon. Udaya Gammanpila, Professor Sarath Kotagama and Mr. Raja Ram and moderated by Dr. Jehan Perera offered unique perspective on the subject.
Activities including cultural demonstrations by the indigenous Veddah, snake charming and fortunetelling led by representatives of the Ahikuntika community, a puppet show on dugong conservation, arts and crafts for children, the reading of popular environmental stories by Shanuki De Alwis and a wildlife photography workshop conducted by four of Sri Lanka's most popular contemporary wildlife photographers, Namal Kamalgoda, Sarinda Unamboowe, Gihan Rajapaksha and Palitha Anthony became popular items of the programme.
At the event, Dilmah Conservation also launched a series of publications on Sri Lanka's abundant biodiversity and heritage, with the aim of creating awareness, sharing knowledge and making available information on our country's flora, fauna and the indigenous and nomad communities to the general public.
In line with Dilmah Tea's core commitment to sustainability, Dilmah Conservation has pioneered numerous environmental and social development initiatives. An interactive exhibition of audio-visual material highlighting these various initiatives comprising innovative urban agricultural models, marine habitat and shipwreck conservation, elephant and dugong conservation and novel species discovery were also on display at the event.
Disclaimer Notice
These images are copyright protected and can only be used for Dilmah articles with due credit given.