Press release and images on TRACKING THOSE DARTING BEAUTIES ACROSS MONTANE FORESTS from Dilmah
Menu
Dilmah Food Service
Integrity & Ethics
Dilmah Tea Inspired
Leisure and Hospitality
Knowledge & Training
Online Shop
TRACKING THOSE DARTING BEAUTIES ACROSS MONTANE FORESTS
An article By Kumudini Hettiarachchi, published in The Sunday Times.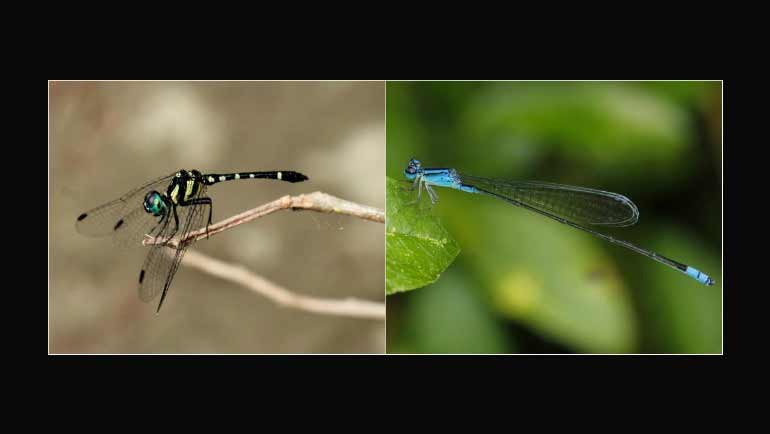 Fascinated by dragonflies from a young age, Amila Sumanapala's work has shed much light on them and now he has launched a Field Guide on these insects.
The emerald beauty is his favourite and he is quick to show off on his smart phone these "power machines" with their gossamer wings and long body shapes, on which helicopters have been modelled, to anyone who indicates even the slightest interest.While many are fascinated by the fragile wonder of butterflies, few follow or even study their cousins – Dragonflies and their twins, Damselflies.
This is the lacuna that 28-year-old Amila PrasannaSumanapala has attempted to fill, with a strong helping hand from Dilmah Conservation to place before the uninitiated this little studied group of insects.
Of the Odonata order, around the world there are over 6,000 species of dragonflies and damselflies, with Sri Lanka home to 129 species of which 56 are endemics. They are everywhere, says Amila, with home-gardens 'harbouring' at least 10 species in their different glorious colours and more if there is a pond.
His work in the Peak Wilderness and other montane forests have also shed light on new species, rare species as well as species not spotted in a very long time, leading to research pieces in many reputed journals. Back in 2012, he re-discovered the species, Sri Lanka Emerald Spreadwing not recorded for 150 years.
"When I saw it, I didn't know it was that fellow, although I did realize that it was unusual. I was familiar with many species and thought that it was either new or had been lost for a while," he says.
Interesting little nuggets of information about dragonflies are presented by Amila – like all insects their life-cycle comprises egg, larva, molt and adult. The larval stage is completely aquatic and they are found in "all sorts" of still-water bodies including wewas (tanks), home-garden ponds, marshes and paddyfields and also flowing-water such as irrigation canals, small streamlets and streams. Some larvae can also tolerate a level of salinity and thus can be found even in lagoons.
Did you know that dragonflies are carnivorous, he asks, describing how the larvae would feed on mosquito larvae acting as a biological control, while the adults would swoop and catch other flying insects including the bane of humankind, the mosquitoes."Dragonflies are very important for the environment as they are excellent indicators of the health of aquatic ecosystems," explains Amila. Some species lay eggs in water or on aquatic plants, some species need clean water and a few others even in polluted water. One day soon we should have special indexes for them.
Lamenting that rapid urbanization is causing harm to their environment, he points out that the number of dragonflies and damselflies seems to be dropping. They are bioindicators giving us strong signals on the health of the environment and as such this needs to be heeded seriously.
Dragonflies, one of the largest living insects, are very important as scientific subjects particularly in the aviation field, he says, adding that his ardent wish for Sri Lanka with its abundance of dragonflies is to make it a 'dragonfly tourism' destination.
Amila's interests as a boy, however, centred on birds rather than insects. Growing up in Boralesgamuwa, getting his primary education at the AnandaShastralaya in Kotte and later at Royal College, a love of nature came about as he sat glued to the Discovery Channels on television.
When Amila was 13, the University of Colombo celebrated its 60th anniversary in 2002, and brought him under the influence of well-known environmentalist and birder, Prof. SarathKotagama. It was this little flame that ignited and sent him in the direction of biology with a keen interest to study animals and work in conservation, which he followed up with a Special Degree in Environmental Conservation and Management at the University of Kelaniya.
By 2008, Amila was part of the Young Biologists' Association based at the Natural History Museum in Colombo. Later he would accompany other scientists who would photograph dragonflies only for identification but not for in-depth study. By 2011, he was peering at them quite closely as a hobby.
Conceding that many consider butterflies to be more charismatic, Amila who works as an independent biologist laughingly puts me on the right track, tactfully ignoring my ignorance on dragonflies, when he says that these large easily-observable insects are "very colourful". Travelling alone or with a small group of like-minded friends, Amila'sfavourite haunts are the Peak Wilderness Sanctuary and the Sinharaja Rainforest.
They travel very light carrying with them a few cooking utensils and sleeping bags, sometimes spending the night in 'ambalamas' or roughing out in tents, surviving on one rice meal a day. At other times they would munch on biscuits or dry slices of bread, swallowed with gulps of water.
"Yes," smiles Amila, the days and nights spent on the trail of dragonflies make his girlfriend jealous but fortunately for him, she is heavily into lichens, so they do have similar interests.
Everything the reader wishes to know about the dragonfly or damselfly.
From his favourite, the Sri Lanka Emerald Spreadwing (Sinhalestesorientalis) , 'A Field Guide to the Dragonflies and Damselflies' by Amila Sumanapala packs within its 174 pages everything and more that we need to know about 105 of these brilliantly-hued insects. It is byson, Amila, to his father, H.G.D. Sumanapala that the Field Guide is presented at the launch of this book on the rainy evening of May 30 at the Dilmah Exceptional Tea Lounge at the Water's Edge Hotel in Battaramulla amidst a handful of invitees.Easy to grasp with detailed sketches and photographs, the Field Guide not only gives a brief introduction to Odonata, but also touches on Sri Lanka's climate, geography and biodiversity before dealing with the diversity of Odonata in the country, a checklist on them, their conservation, family and species profiles and also their habitats.
Simple explanations and something learned about these insects, for anyone who flips through the pages of this Field Guide, with what Dilmah Founder Merrill J. Fernando states in the book ringing true: "I hope that with this publication future generations will be enlightened on the importance of this species and the need for their conservation and inspire with it a new generation of enthusiasts who will take on this responsibility and help restore dragonfly populations."
Those who pick up the Field Guide will find it very easy to navigate as the format is reader-friendly. The 'familycolourcode' can be spotted even when the Field Guide is closed.
Everything the reader wishes to know about the dragonfly or damselfly profiled on a particular page is all there – images of both the male and the female; its common name and scientific name; its flight season highlighted by month; its size (abdomen andhind-wing); a distribution map; whether large, medium or small; its national conservation status (ranging from extinct to near-threatened tonot-evaluated); and abundance status (ranging from very common to very rare).
Like the latest on dragonflies and damselflies, Dilmah Conservation has put outcolourfuland handy books on a wide range of topics, a line-up of 11, including on common spiders, common butterflies, snakes both deadly and venomous, lichens, traditional communities – the Ahikuntaka and indigenous communities – the Veddahs.
This is in keeping with the objectives of Dilmah Conservation initiated in 2007, to incorporate environmental and wildlife conservation efforts into the work of the M.J.F. Charitable Foundation, which primarily focuses on social justice. The objectives are to produce a collection of scientific publications on a range of biodiversity-related topics to help create greater awareness.
Getting back to the Field Guide, it is a must-have not only for those who are about to softly tread in the flight-path of these creatures but also thosealready-fascinated by them.
While Amila is lured by the 'very rare' Sri Lanka Emerald Spread wing and there is awide-rangefor you to pick from such as the green-blue mixed 'uncommon' Elephant Emperor; black with yellow markings 'rare' Sri Lanka Wijaya's Scissortail; and bright red-and-yellow 'very rare' Sri Lanka VermilionForestorto name a few, for me the humble and 'very common' black beauty with luminous metallic blue or green on the hind-wings, Sri Lanka Shining Gossamer wing, isfirstchoice.
Please click here to view source article
Disclaimer Notice
These images are copyright protected and can only be used for Dilmah articles with due credit given.