Press release and images on Time for a cuppa? Make it a green one from Dilmah
Menu
Dilmah Food Service
Integrity & Ethics
Dilmah Tea Inspired
Leisure and Hospitality
Knowledge & Training
Online Shop
Time for a cuppa? Make it a green one
Time for a cuppa? Make it a green one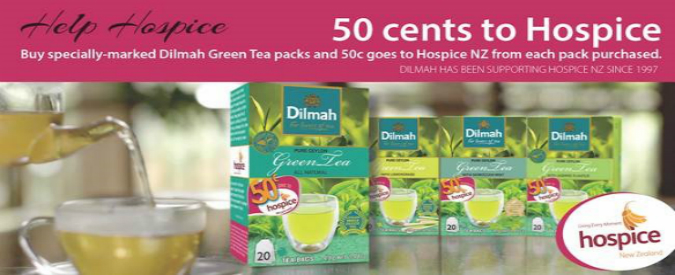 Dilmah is currently donating 50 cents from selected packs of the new Dilmah Pure Ceylon Green Tea range to Hospice New Zealand to help raise awareness on hospice services throughout the country.

This is just one of the ways in which Dilmah supports the work of the Hospice. Since 1997, Dilmah has donated tea to the hospice service in New Zealand. Through this generous donation, hospices are able to provide the world's finest tea to people in the care of the hospice and their families, friends, visitors, volunteers and staff.

The process of making a cup of tea and the comforting conversations that can take place over a hot cup of tea, can be relaxing and therapeutic. This is at the very heart of Dilmah, and also its founder, Merrill J. Fernando.

More than 5.5 million teabags have been donated over the years- a testament to the commitment the entire Fernando family has made to the hospices throughout New Zealand. In terms of a dollar value, Dilmah's support has saved hospices throughout the country over 0,000 over the past 19 years - supporting their efforts of providing care for people with a life limiting condition, free of charge.
Disclaimer Notice
These images are copyright protected and can only be used for Dilmah articles with due credit given.