Press release and images on The Veddah Community benefits through Handicraft and Pottery Centre from Dilmah
Menu
Dilmah Food Service
Integrity & Ethics
Dilmah Tea Inspired
Leisure and Hospitality
Knowledge & Training
Online Shop
The Veddah Community benefits through Handicraft and Pottery Centre
The Veddah Community benefits through Handicraft and Pottery Centre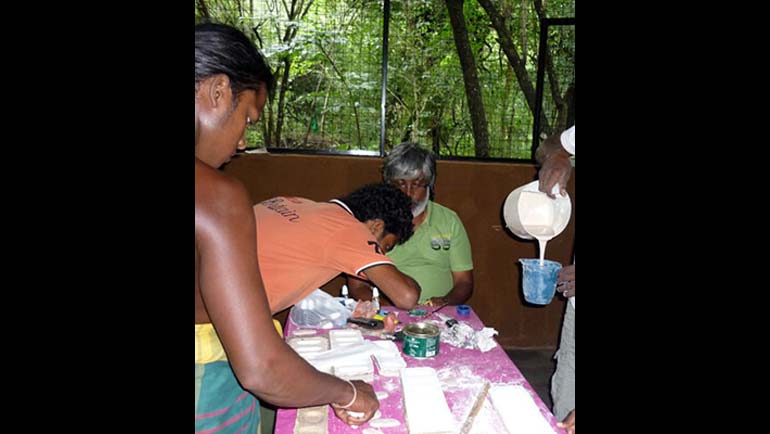 Dilmah Conservation's Veddah Community Upliftment Programme is aimed at helping the community safeguard its cultural identity and traditions, while enabling dignified and sustainable livelihood opportunities towards greater economic empowerment.
As a part of this initiative, Dilmah Conservation supported the construction of the Veddah Handicraft and Pottery Centre in Dambana, which was handed over to the community in August 2013. This facility provides for the preservation of indigenous aesthetic traditions, while helping members of the community develop related income generating opportunities.
Thus far, a training programme on handloom weaving was conducted for interested members of the community, in collaboration with the Industrial Development Board. A second training programme focused on making handicrafts was carried out by local artist Bharatha Liyanage of the Faculty of Fine Arts, who guided participants on how to draw on traditional motifs in creating and crafting jewellery items such as beads and pendants, and historically significant commemorative objects such as a bust of the late Veddah Chief Uru Warige Thisahami (1894-1998). Thisahami's commitment to social justice and the preservation of the distinctive traditional inheritance of the Veddahs is of great importance to the community even today. Liyanage also taught the participants how to use novel means and materials such as fibre glass moulding which allows for the quicker and simpler reproduction of items.
Beneficiaries will be able to create and sell these products to visitors and it is anticipated that further training programmes aimed at capacitating members of the community to design and produce handicrafts, pottery and handloom items will be conducted. Dilmah Conservation will also continue to support the community by facilitating access to markets and in establishing a sustainable mechanism for production and sales.
Disclaimer Notice
These images are copyright protected and can only be used for Dilmah articles with due credit given.