Press release and images on The Rediscovery of Pseudophilautus hypomelas in the Peak Wilderness Sanctuary from Dilmah
Menu
Dilmah Food Service
Integrity & Ethics
Dilmah Tea Inspired
Leisure and Hospitality
Knowledge & Training
Online Shop
The Rediscovery of Pseudophilautus hypomelas in the Peak Wilderness Sanctuary
The Rediscovery of Pseudophilautus hypomelas in the Peak Wilderness Sanctuary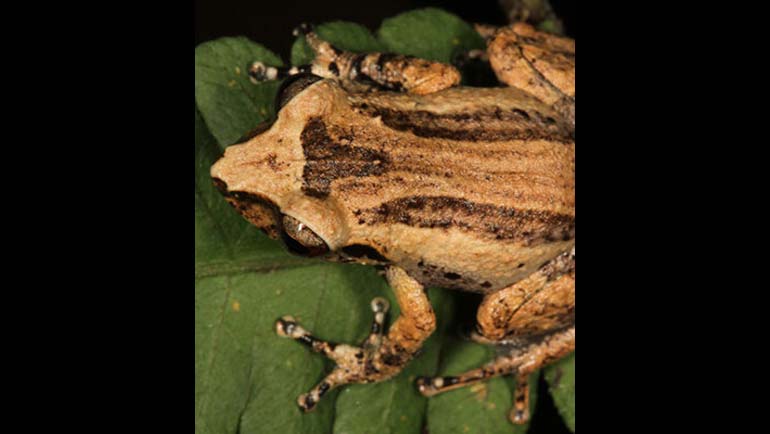 As a part of Dilmah Conservation's 'Novel Species Paving the Way for Biodiversity Conservation' initiative implemented in partnership with the Herpetological Foundation of Sri Lanka, a species of frog Pseudophilautus hypomelas that was thought to be extinct was recently rediscovered in the peak wilderness located in the central hills of Sri Lanka.
Previously known from a collection of 14 specimens deposited in the Natural History Museum in London by A. Günther in 1876, there has been no record of this species since then and was considered extinct. Following the rediscovery of this species during a biodiversity survey of the peak wilderness sanctuary, Pseudophilautus hypomelas has been re-described from the new collections and published in the December 2013 issue of the Journal of Threatened Taxa.
Pseudophilautus hypomelas is the 10th amphibian species discovered in the peak wilderness sanctuary as a result of surveys conducted as a part of the Novel Species project, with 9 other species of frog already taxonomically described and published. The peak wilderness sanctuary is one of the few remaining continuous natural forests in Sri Lanka with a cover of altitudinal graded forest types home to a wealth of plant and animals, including most notably, numerous endemic and threatened bird species.
Discovery and re-discovery of new species enhances the biodiversity value of the peak wilderness sanctuary and highlights the need for implementing sound conservation management and interlinked research strategies towards the protection of Sri Lanka's biodiversity.
The Dilmah Conservation's Novel Species project is geared to support specialised research on amphibian and reptile species towards improving their conservation status, and will continue to expand its activities towards the taxonomic description and publication of new species.
Click here to download the published paper.
Disclaimer Notice
These images are copyright protected and can only be used for Dilmah articles with due credit given.