Press release and images on The prestigious Monash Caulfield Campus hosts Dilhan Fernando to speak on Ethical Corporate Practices in International Business from Dilmah
Menu
Dilmah Food Service
Integrity & Ethics
Dilmah Tea Inspired
Leisure and Hospitality
Knowledge & Training
Online Shop
The prestigious Monash Caulfield Campus hosts Dilhan Fernando to speak on Ethical Corporate Practices in International Business
The prestigious Monash Caulfield Campus hosts Dilhan Fernando to speak on Ethical Corporate Practices in International Business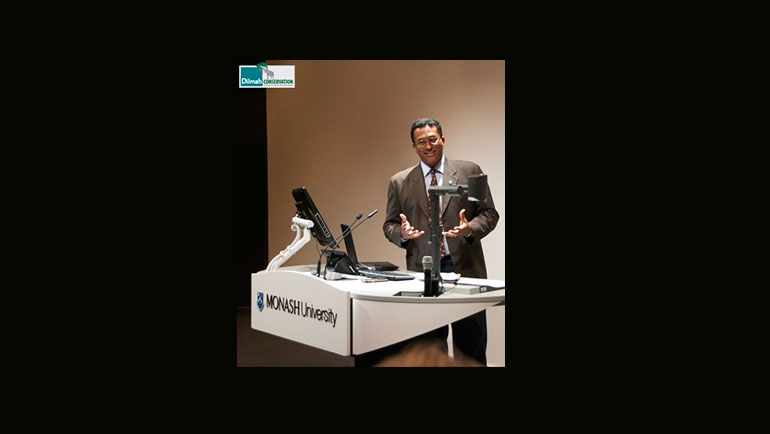 Recently, the son of Dilmah Founder Merrill J. Fernando, Marketing Director of Dilmah Tea and Trustee of the MJF Charitable Foundation and Dilmah Conservation, Dilhan C. Fernando spoke to the students of International Business at the prestigious Monash Caulfield Campus in Australia on the theme of 'Managing Different Stakeholders: Ethics and CSR' in the context of international business.
The Monash School of Business is ranked among the leading business education providers in the world and its continuous exploration of Dilmah's ethical business practices has provided undergraduates of the university with an example of business that is truly a matter of human service.
The presentation focused on the most pressing environmental and humanitarian crisis faced by the world today including infant mortality, access to toilets, access to nutrition, access to water and healthcare while identifying how businesses and corporations could reverse the current depleting status of the environment by fulfilling their responsibilities to man and nature. Dilhan further discussed the fundamental difference between Dilmah and conventional business people in terms of humanitarian service. "Every business has an obligation to its community and to its environment. Why? We are, as individuals or as corporate, a part of the eco system; we survive, we grow because of that eco system, because of the involvement of many factors. Externalising any single factor is simply not possible. CSR unfortunately gives the possibility of aligning whatever humanitarian work that is done to the masses.
It is increasingly demanded by the consumer, by markets, by customers –those logos we see on packs, those wonderful sounding, beautifully marketed concepts -amazing in their intention, but increasingly commercialised to a point that today they are some of the biggest brands in the world. So, when you align your humanitarian or environmental activities towards the market you could fundamentally compromise them…
My father established our business on a somewhat different philosophy and that is because the basis of our business is family values. The principle that my father has integrated into the heart of Dilmah is that a minimum of 10% of the pre-tax profits of every one of our businesses, of our group businesses, will be used for humanitarian or environmental service which is the concept of making business a matter of human service. Tangibly, this year provides approximately US million towards our environmental and humanitarian activities. This makes us one of the largest independent Foundation's in Sri Lanka and one of the largest in Asia, but I think the true relevance of business in relation to its social responsibility, the community and the environment actually goes even beyond that," Dilhan explained.
Disclaimer Notice
These images are copyright protected and can only be used for Dilmah articles with due credit given.