Press release and images on Ted's Wild Adventure Has Just Begun… from Dilmah
Menu
Dilmah Food Service
Integrity & Ethics
Dilmah Tea Inspired
Leisure and Hospitality
Knowledge & Training
Online Shop
Ted's Wild Adventure Has Just Begun…
While most of us spent the last 8 weeks within the confines of our home, a very special member of the Dilmah family had his first taste of freedom.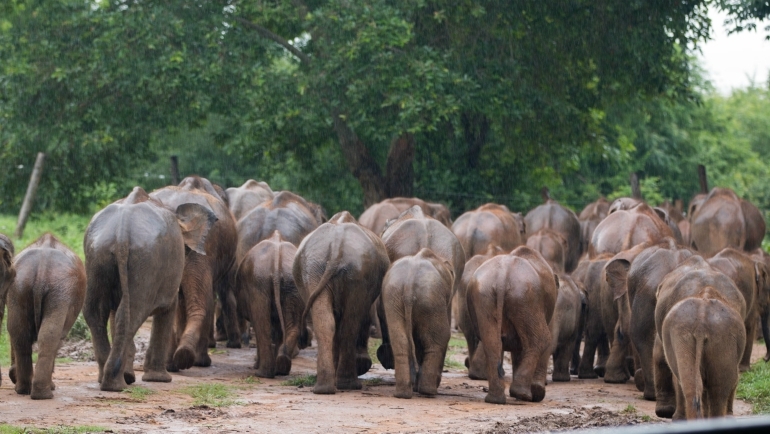 Baby Ted's Story
Ted was an orphaned baby elephant when he was rescued by the Department of Wildlife Conservation (DWC) staff who brought him to the Elephant Transit Home in Udawalawe, Southern Sri Lanka. He was one of the youngest baby elephants at the ETH, when Dilmah adopted him and named him Ted after the famous Sir Graham Henry, the 2011 Rugby world cup winning coach of the famous All Blacks! With around the clock care, 8 feeds of milk a day and plenty of other baby elephants to play with, Ted transformed into a healthy juvenile elephant calf. He grew stronger and bigger each time the Dilmah Conservation team visited him. Baby Ted was one of 40 young elephants being cared for by the dedicated staff and veterinarians at the ETH, which is internationally acclaimed for successfully rehabilitating and reintroducing orphaned elephants back into the wild.
His luck truly turned in 2013 when he was visited by his namesake Sir Graham Henry and his wife Lady Raewyn Henry who made a special visit to the ETH in Udawalawe to meet and greet this baby elephant (from afar of course)!
The First Step to Freedom
In 2019 Ted was chosen as a potential candidate to join the 'Soft Release Programme' to be implemented by the staff at ETH for the first time along with 19 other juvenile calves. The soft release programme allows a gradual introduction to a new environment to enable a smooth transition back to being wild.
The Soft Release Program
A point of release is determined.
In selecting the venue great effort is made to select a place which is similar and close to their familiar habitats at the ETH.
Calves are guided to this release point daily to gain familiarity.
The formula meals are replaced by a concentrate solid meal of 'herbivorous pellets'.
Initially, caretakers offer them pellets twice a day and reduce it to once a day with time.
Gradually human interaction and assistance are completely withdrawn.
The newly released herd (including Ted) were guided to the wilderness of Udawalawe and successfully completed the 4 stages of the Soft Release Programme. (Images courtesy of the Department of Wildlife Conservation)
Ted in the Wild
The staff and wildlife veterinarians at Udawalawe continue to closely monitor the newly released elephants, including Ted. They are thrilled with the progress of the herd, as the elephants have quickly settled into their new habitat successfully. This may be attributed to the presence of 3 new elephants that have joined them (also prior rehabilitated residents of the ETH) as mentors to the young herd. They have been observed to be acting as guides, leading them to safer habitats, teaching them to forage for food and discover the best water holes in the area till males like Ted are confident to roam on their own in time for the dry spell expected in June.
Farewell Ted! You were born to be wild……
Dilmah Conservation Drives Knowledge-Based Elephant Conservation
Elephants like Ted are not only ecosystem engineers that are crucial to the health and maintenance of Sri Lanka's forests, but they also hold a significant place in the nation's rich history and culture. Intending to protect these gentle giants, Dilmah Conservation extends its support to the Elephant Transit Home (ETH) located in Udawalawe, Sri Lanka. In addition to providing support through improved infrastructure facilities and utilities, Dilmah Conservation has established a comprehensive Elephant Information Center to help raise awareness and knowledge on these impressive species and the threats that they face. This centre is equipped with facilities to educate and create awareness through diverse visual, tactile and audio mediums to engage all visitors to the ETH with the message of conservation through education and knowledge sharing.
www.dilmahconservation.org/initiatives/biodiversity/udawalawa-wildlife-program.html
www.dilmahconservation.org/pdf/e-publication/the-iconic-sri-lanka-elephant.pdf
www.dilmahtea.com/sustainability/biodiversity/udawalawe-wildlife-protection.html
https://pressroom.dilmahtea.com/news-about-dilmah/sir-graham-and-his-namesake-ted-the-baby-orphaned-elephant--69.html
Disclaimer Notice
These images are copyright protected and can only be used for Dilmah articles with due credit given.