Press release and images on Tea turns a new leaf for executive chef from Dilmah
Menu
Dilmah Food Service
Integrity & Ethics
Dilmah Tea Inspired
Leisure and Hospitality
Knowledge & Training
Online Shop
Tea turns a new leaf for executive chef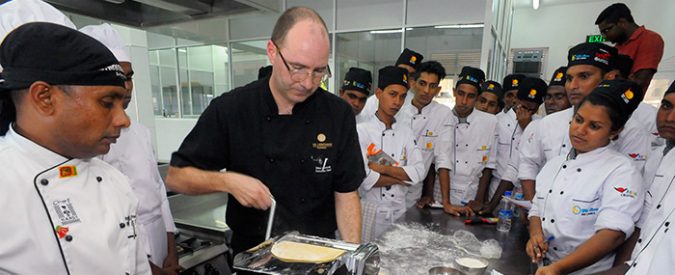 Volker Marecek has hung up his executive chef,s hat and jacket to go and teach young Sri Lankans how to cook, among other things, pasta.
In his luggage is a pasta machine. The European fare, he says, will be something quite different for the youngsters to cook from their usual fare of dahl, rice, curries, kottu and hoppers, full of Ceylonese spices.
It may also give them an edge into a job in hotel kitchens furiously trying to find enough staff to meet the needs of Sri Lanka's burgeoning tourism industry.
Marecek,s journey from ruling the kitchens at The Langham Auckland to the MJF Culinary Centre just outside Colombo, started a couple of years ago - with tea. Marecek and a Langham front of house partner, Benjamin McManus, took on the Dilmah Real High Tea challenge in New Zealand and scored a gold medal and the right to represent New Zealand. Since then Marecek has not only visited Dilmah tea plantations, but learnt about the work of the MJF Foundation and the Ethical Tea Society.
The founder of Dilmah, Merrill J Fernando, ensures his foundation receives around US million each year, from the many Dilmah companies, profits, and that it is used to help his fellow Sri Lankans. For the man many Kiwis call "Mr Dilmah", it is an essential part of his ethos: "business is a matter of human service".
During his first trip to Sri Lanka, Marecek visited a MJF Centre and met with children and young adults living with disability. It changed his outlook on life.
"My visit this time is only for eight days, but this is the first time that I have dedicated my time to help people there, " he says. "I feel really privileged to be able to give back.
"I shall be teaching the kids basic skills and what it is like to be a chef; that is not a 9 to 5 job and that you must have a passion and a love for cooking. " Marecek,s career started in Germany at the age of 16. His cooking has taken him around the world and to places like the Savoy in London. In 2007 he and his wife decided they wanted to put down roots and applied to become permanent residents of New Zealand. The word got around in executive chef circles and The Langham quickly snapped him up to manage its Auckland hotel's kitchens.
The world the young Sri Lankans he will teach come from is in sharp contrast. Many are from poor families, have a disability or were badly wounded in the recent civil war. For them securing a career in cooking means they and their families will have an income.
Marecek will also be cooking for more than 400 graduates of the MJF Kids, programme on October 8. These youngsters come from low income families living close to Dilmah facilities. The program helps them with their education, uniforms and books, and helps provide a safe passage through their teenage years. In the 10 years the programme has run, many have graduated from universities, with some returning as doctors to help in the areas around the plantations.
The dinner will be held at the aptly named Merrill J Fernando Centre for Sustainable Development and Empowerment.
Marecek says he doesn,t know yet whether pasta will be on the menu that night. But he is sure that the spirit of giving that he has picked up from Merrill J Fernando is obviously catching. Singapore Airlines allowed him to take chefs knives, kitchen equipment and the pasta machine to Sri Lanka free of charge.
"I have travelled all around the world and done many things, but this chance to teach the kids is just outstanding, " Marecek says. "I am glad people can share my excitement. "
Please click here to view "High Tea and Charity" Article in Verve Magazine, New Zealand
Disclaimer Notice
These images are copyright protected and can only be used for Dilmah articles with due credit given.