Press release and images on Tea Inspiration for the 21st Century from Dilmah
Menu
Dilmah Food Service
Integrity & Ethics
Dilmah Tea Inspired
Leisure and Hospitality
Knowledge & Training
Online Shop
Tea Inspiration for the 21st Century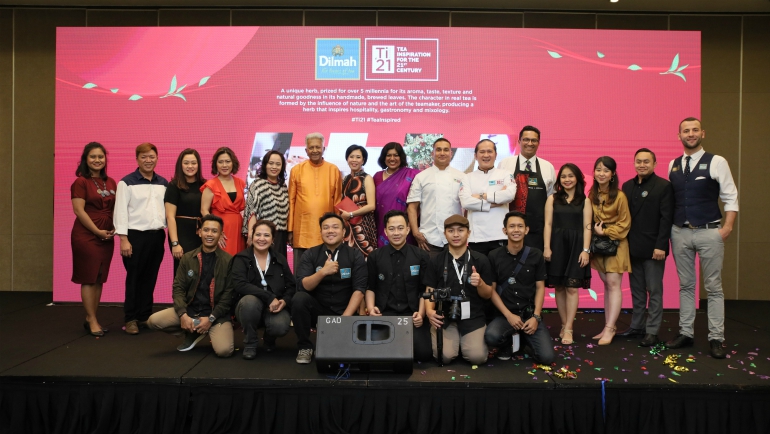 Family Tea company Dilmah was the outcome of its Founder's passionate belief in quality and purpose. Merrill J. Fernando's emphasis on authenticity, taste and ethics evolved into an innovative approach to tea, designed to share the pleasure and natural goodness in tea with a new generation of tea drinkers. Now the family of Teamaker's have brought their unique perspective on nature's healing herb to Indonesia & Thailand with Tea Inspiration for the 21st Century - also known as Ti21.

In 2015 Merrill and his sons, Dilhan and Malik partnered with chefs and mixologists around the world in successfully reimagining afternoon tea. The 7 year journey that ended with the Dilmah Real High Tea Challenge Global, took afternoon tea beyond the 18th century tradition of scones and cucumber sandwiches, with greater appreciation of the terroir in fine tea, and the indulgent relationship that food and tea naturally have.

With Ti21, talented Chefs and Mixologists from Thailand and Indonesia were challenged to see the real potential for tea in the 21st Century. Dilmah's Ti21 was a unique competition which pushed the culinary and hospitality skills of contestants to the limit, in crafting tea experiences for morning, afternoon and evening.

The contest was judged by Chef Peter Kuruvita - Australian Restaurateur and Celebrity Chef, Tomek Malek - four time Roadhouse World Flair Bartending Champion and Tea Judge, Dilhan C. Fernando, son of Dilmah Founder. Inclusive of Celebrity Chef Chandra Yudasswara -Net Table in Indonesia. The criteria required participating teams to express tea across 7 dimensions - cultural, personal, culinary, mixology, sustainability, tea of course and harmony amongst all.

Whilst maintaining uncompromising commitment to the founding principles of Taste, Goodness and ethical Purpose, Dilmah has blazed a trail of innovation in tea, based on its founder's belief in the relevance of tea. Science has proven the unique natural antioxidant benefit in tea, whilst the Dilmah Family believe that beyond that extraordinary wellness lies a luxury that forms the soul of their tea innovation programme.

"Fine tea should be handpicked, made with artisanal care and packed ethically and garden fresh to offer tea drinkers the goodness in tea. Beyond that goodness lies an indulgence that is without parallel for every subtle character in good tea is crafted by nature - sunlight, wind, soils, humidity and the complex natural climatic influences. The interrelationship between food, drinks, the guests' wellness, mood and experience are what form the heart of Ti21," explained Tea Judge Dilhan.
Disclaimer Notice
These images are copyright protected and can only be used for Dilmah articles with due credit given.