Press release and images on T-Lounge By Dilmah By the Beach from Dilmah
Menu
Dilmah Food Service
Integrity & Ethics
Dilmah Tea Inspired
Leisure and Hospitality
Knowledge & Training
Online Shop
t-Lounge By Dilmah By the Beach
t-LOUNGE BY DILMAH NOW IN THE SANDY CITY OF NEGOMBO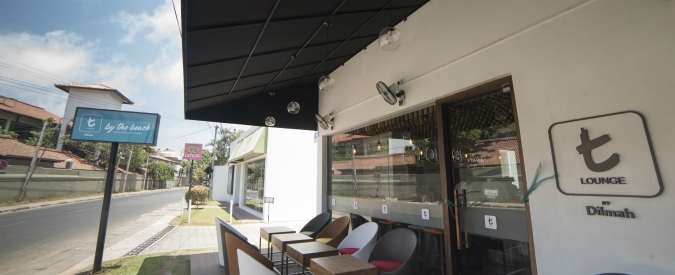 The t-Lounge by Dilmah opened its latest signature outlet in Negombo today! Located at 112, Poruthota Road, Negombo, Dilmah's third and newest t-Lounge is placed right next to the beach in Negombo and hosted an opening event with special guests and invitees gathering for a morning of tea inspired cuisine with the founder of Dilmah Merrill J. Fernando and his son, the visionary behind the t-Lounge concept, Dilhan Fernando.

At the occasion, a selection of our most iconic teas, including the signature t-Tk and ginger hot tea, were served paired with Oolong tea infused kiribath with seeni sambol, lunu miris and bananas, tuna focaccia, mini chicken burgers of Ceylon Souchong infused buns and smoky pulled chicken in hickory sauce, bite-sized vege pizzas infused with Ceylon Souchong, Rose with Fresh Vanilla Tea infused marshmallows, Italian Almond Tea infused milk toffees and an assortment of delicious tea cookies.

So, do join us in the indulgence of Ceylon's finest tea, now closer to the gorgeous sands, sun and sea of Negombo...
Disclaimer Notice
These images are copyright protected and can only be used for Dilmah articles with due credit given.