Press release and images on Perfect Teas for a Perfect Year : Nine Single Estate Teas for 2020 from Dilmah
Menu
Dilmah Food Service
Integrity & Ethics
Dilmah Tea Inspired
Leisure and Hospitality
Knowledge & Training
Online Shop
Perfect Teas for a Perfect Year : Nine Single Estate Teas for 2020
Nine Ceylon Single Estate Teas for a Perfect Start to 2020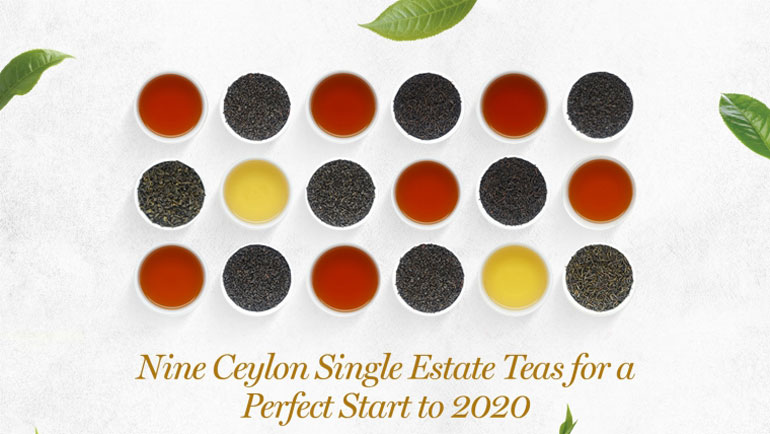 We selected 9 elegant single estate teas with which to greet the new year, and our focus was on teas to relax the mind while inspiring thought and creativity. Tea can really do both; fresh tea is especially rich in an amino acid - L-theanine - which significantly increases activity in the alpha frequency band, relaxing the mind without inducing drowsiness. But tea is about great Taste, as well as natural Goodness, and so we matched the goodness in our teas with fragrance and taste that calm as only nature can.
As the prolonged monsoonal rains dispersed, and the clouds cleared, we produced very small batches of each of seven winter black teas and two seasonal Green Teas were handpicked and handmade in December - freshness is critical for good aroma, taste and natural antioxidant goodness in tea. They were grown and produced on 6 Dilmah Tea Gardens, some wiry, others shotty, some curled and other not.
Each is a special tea, to be carefully brewed using filtered or spring water - 4 -5 minutes for the black teas and 2-3 minutes for our Emerald Hills Green Teas - stirring occasionally to ensure that the aroma, flavour and goodness are released. These teas are perfect for the customary January detox, they are gentle, and not aggressive, but complex and each individual.
Suggestion : The fragrance and taste of great tea makes the perfect companion. There is special satisfaction in knowing that your brew is crafted by none other than Nature, with every subtle aroma, flavour and the powerful antioxidants in each tea, being nurtured in the leaf by soil, sunshine, temperature and rainfall. Extracting that aroma, taste and goodness for your enjoyment requires the use of good water - filtered or spring water at pH6-7 with total dissolved solids less than 150ppm.
We recommend that these very special teas are enjoyed without the addition of milk or sugar, although if you want to add a personal touch to your teas, that is also OK. Our advice is - keep it natural, use fresh ginger, lavender, mint leaf, cinnamon, a twist of lemon, orange or other fresh herbs, roots or fruit that would complement and not dominate the taste of the teas.
Craighead Estate Winter BOP1
Large leaf, single estate BOP1 from Craighead Estate. A coppery, dark olive infusion, and mellow, amber liquor, gentle with mild astringency lightly malty, followed by a fruity finish. An afternoon or evening tea, a elegant palate cleanser after desserts.
Endane Estate Special FBOP1
Grown and harvested on the spectacular Endane Estate, in the vicinity of the Sinharajah Rainforest, this is a light, and delicate tea with nominal astringency and hints of herbs. Best enjoyed without milk, with lightly crushed mint leaves or fresh ginger to taste if desired.
Westhall Estate FBOP
Deceptively mild in appearance, this tea has a profusion of herb, mint and floral notes. A great all day tea, that is best taken straight, with a few drops of light honey if sweetness is desired. It is a bright and complex tea with some seasonal hints.
Endane Estate Pekoe 1
A tightly rolled Ceylon Pekoe with gentle earthiness and mild astringency. The tea has a dark, amber liquor once infused, and a combination of fruit and mild spice. Best taken without milk or sugar, although a twist of lemon or a quill of Ceylon Cinnamon to taste if desired.
Imboolpitiya Pekoe 1
A bright, Ceylon Single Estate tea with a spark of seasonal brightness. A touch of citrus complements the tea, producing a beautiful all day experience. An elegant accompaniment to salads, or light bakery or sweets, but perhaps not chocolate.
Westhall Pekoe 1
An unusually bright seasonal Pekoe 1, produced shortly after extended monsoonal rains passed, in December. The gently minty, citrus note expresses the arrival of brighter days in a tea that makes a perfect accompaniment to forest fruit, salads, or chocolate desserts. Best taken without milk or sugar, just a touch of light bee honey if sweetness is desired.
Windsor Forest Pekoe 1
A medium strength, single estate tea especially made for our Teas for the turn of the decade on a tea garden that is also known as Galamuduna. A dark infusion yields a medium strength tea. Ideal with spice, as a natural Cardamom, Clove, Cinnamon chai with honey, mint leaves and a touch of warm dairy milk.
Emerald Hills Christmas Green OP1
Elegant on the eye, with wiry leaf made in the pristine environment of our Emerald Hills Tea factory, in the Nuwara Eliya district. Beautiful yellow-green liquor with soft astringency and herbal, citrus notes. A gentle green tea with subtle sweetness in its finish, best enjoyed without milk or sweetness, although a crushed mint leaf or cardamom for occasional variation.
Emerald Hills 2020 Green Pekoe
A special, curled pekoe made for the occasion, the leaf has beautiful appearance and yields nearly full leaves when brewed. The liquor is bright and gently astringent, with an aroma that is reminiscent of the ocean, and herbal, seaweed and light citrus notes in taste. Best enjoyed without milk or sweetness.
Disclaimer Notice
These images are copyright protected and can only be used for Dilmah articles with due credit given.