Press release and images on New Species of Skink Named After Dilmah Tea Founder, Merrill J. Fernando from Dilmah
Menu
Dilmah Food Service
Integrity & Ethics
Dilmah Tea Inspired
Leisure and Hospitality
Knowledge & Training
Online Shop
New Species of Skink Named After Dilmah Tea Founder, Merrill J. Fernando
Lankascincus merrill was discovered by renowned herpetologist & taxonomist Mendis Wickramasinghe and named as a tribute to Mr. Fernando on the 6th of May 2020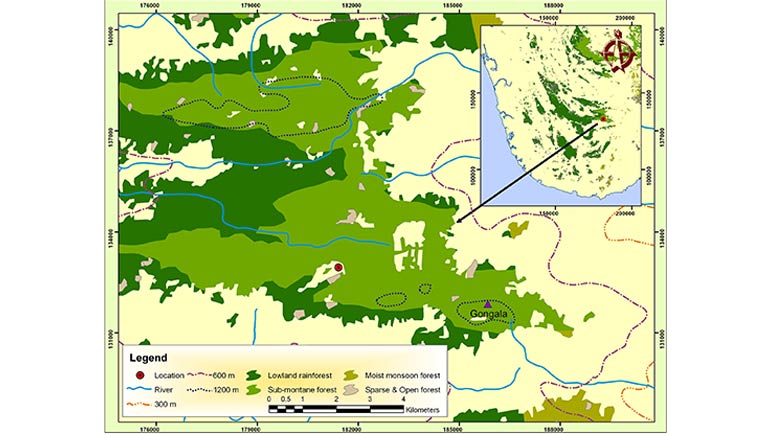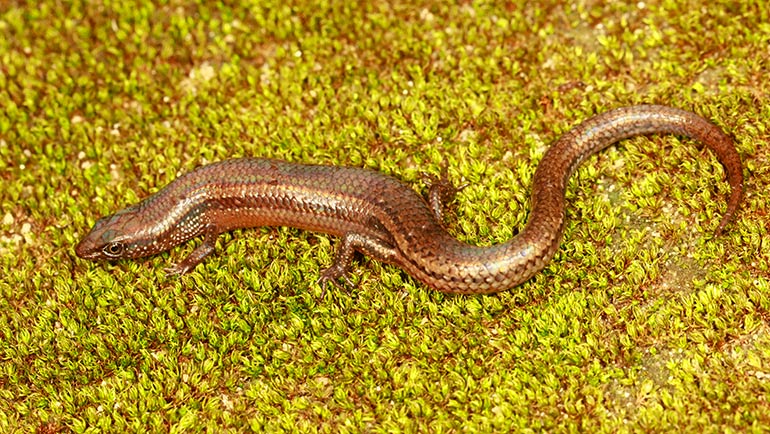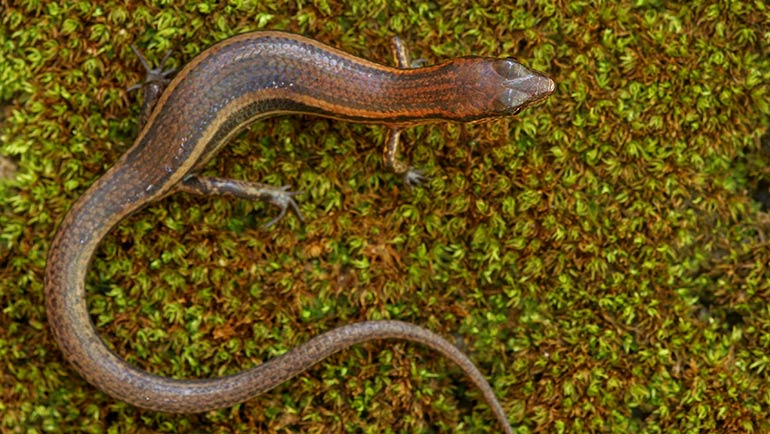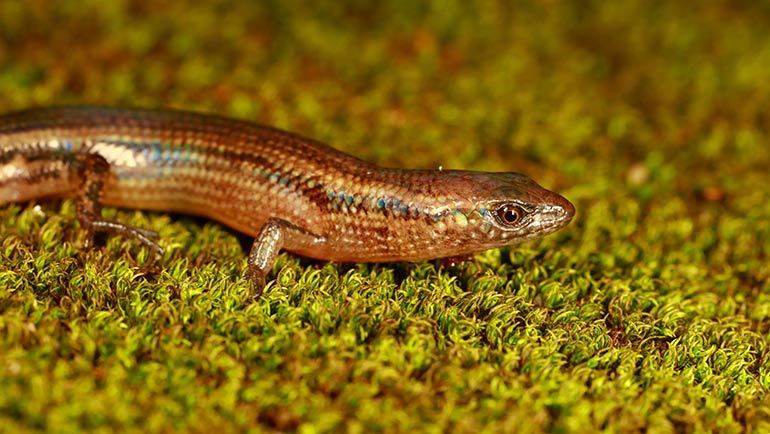 Lankascincus merrill was discovered by renowned herpetologist & taxonomist Mendis Wickramasinghe and named as a tribute to Mr. Fernando on the 6th of May 2020, his 90th birthday to honour his commitment towards the preservation of Sri Lankan biodiversity. Lankascincus merrill is the 11th species of the endemic Sri Lankan lizard genus Lankscincus, an abundant group of litter skinks distributed throughout the island.
According to the paper 'A New Species of Lankascincus Greer, 1991 (Reptilia: Scincidae) from the Rakwana Hills of Sri Lanka' by L.J Mendis Wickramasinghe, Dulan Ranga Vidanapathirana & Nethu Wickramasinghe, Lankascincus merrill sp. nov. is easily distinguished from other skinks due to its tiny size. L.merrill snout to tail length ranges from 32.8 – 34.9 mm. According to the paper, it also has a unique scale pattern along it's body and specifically around the eye region, and is easily distinguished by its prefrontal scales on the head which are in contact unlike in most other skinks and a conspicuous dark-brown band from snout to mid-tail, gradually fading towards it's rear.
While skinks are commonly distributed around the island, L.merrill is only found in natural and disturbed forest areas in the lowland wet zone to the sub-montane rain forests of the Central Highlands, Sinharaja, and the Rakwana massif. Lankascincus merrill is diurnal, occurring in pairs, and can be commonly found in shady areas under thick leaf litter in drainage ditches and under rock crevices.
Mr.Fernando's commitment to protect and conserve our natural environment is actioned through Dilmah Conservation, the dedicated environmental and sustainability arm established within the business. His philosophy of "making business a matter a matter of human service" has served communities, protected ecosystems and conserved a myriad of species from the iconic Sri Lankan elephant to tiny shrub frogs, across the island.
Identification and accurate documentation of species is vital in understanding how an ecosystem functions and in developing sound strategies for conservation management. Dilmah Conservation's 'Novel Species Paving the Way for Biodiversity Conservation' programme was established to address the dearth of knowledge of Sri Lanka's herpetofaunal (reptile and amphibian) species, thereby generating scientific evidence of their existence and thus aiding and elevating their conservation. Dilmah is privileged to be one of the only private organizations that have contributed to the discovery of new species.
The Novel Species programme has facilitated the discovery of 11 species of frog - including a shrub frog named Pseudophilautus dilmah, 2 species of gecko, and one species of snake along with the re-characterization of another. Dilmah Conservation also recognized the ecological significance of lichen and contributed to their protection and conservation by enabling the discovery of 8 lichen species new to science (including one discovered within Dilmah's Queensbury estate and so named Heterodermia queensberryi) and 88 new lichen species records from Sri Lanka.
Suggested vernacular names are (Merrillgé lak-hikanala), Merrillavin arené, and Merrill's Lanka-skink, in Sinhala, Tamil and English, respectively.
Disclaimer Notice
These images are copyright protected and can only be used for Dilmah articles with due credit given.