Press release and images on Merrill J. Fernando honoured at the Ada Derana Sri Lankan of the Year 2016 Awards from Dilmah
Menu
Dilmah Food Service
Integrity & Ethics
Dilmah Tea Inspired
Leisure and Hospitality
Knowledge & Training
Online Shop
Merrill J. Fernando honoured at the Ada Derana Sri Lankan of the Year 2016 Awards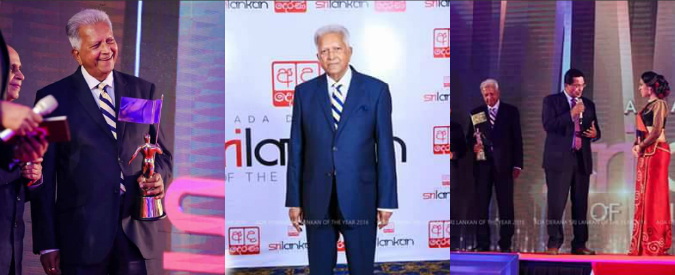 The man known as the Teamaker - Dilmah Founder Merrill J. Fernando was honoured with the Global Businessman Award at the Ada Derana Sri Lankan of the Year 2016 Awards Night which was held at the Hilton Colombo last Friday.

The award seeks to honour and celebrate the outstanding achievements of individuals/groups whose efforts have far-reaching influence on the country, positively impacting the local community and thereby help place Sri Lanka on the international limelight. Recognizing such contributions, it is hoped, will inspire fellow Sri Lankans, especially the younger generation to follow the hard work, passion and the vision of their idols.

The story of Merrill J. Fernando's Dilmah Tea, is a one that, impresses and inspires. It depicts Merrill's struggle to change the Ceylon tea industry; how he devoted his life to tea and vigorously fought to bring integrity back to Ceylon Tea. While being vociferous in his defense of Ceylon Tea (mainly against the widespread adoption of CTC manufacture at the expense of the traditional orthodox teas that Ceylon Tea is known for) and millions of workers who depended on tea for their survival, Merrill J. Fernando crystallized into his business, six core values namely integrity, tradition, quality, ethics, customer and sustainability.

Merrill's love for tea led him to innovate in three very important areas - he launched the first producer owned tea brand in 1988; pioneered the concept of single origin tea and packing tea, garden fresh at source. He also adopted a unique business model- one which was built on the philosophy of making business a matter of human service.

The tiny, upstart tea company that Merrill formed in 1988 to change the exploitation of his country's crop by big traders, has today grown to become one of the top 10 tea brands in the world and the Global Businessman Award is in recognition of Merrill J. Fernando's service to Ceylon Tea, through his Dilmah.

The final selection of awardees was by a jury of eminent personalities such as Deshamanya Radhika Coomaraswamy, Nalaka Gunawardene, Dian Gomes, Professor Carlo Fonseka, Desamanya J. B. Disanayaka, Vijitha Yapa, Army General R. M. Daya Ratnayake, Jezima Ismail and Chandran Rutnam.

In 2015, Merrill J. Fernando became the recipient of the Business for Peace Award granted by the Business for Peace Foundation which annually names honourees for the Oslo Business for Peace Award in recognition of business persons who, "through their own actions and commitments truly are business worthy, promoting socially responsible and ethical business practices in an outstanding way, and standing out as examples to the world.

The Award Committee is formed by Nobel Laureates invited by the former Swedish Prime Minister Hans Goran Persson, former Norwegian Prime Minister Kjell Magne Bondevik and Director of the Peace Research Institute Oslo Kristian Berg Harpviken.
Disclaimer Notice
These images are copyright protected and can only be used for Dilmah articles with due credit given.