Press release and images on Lunch Happy Hour with Peter Kuruvita from Dilmah
Menu
Dilmah Food Service
Integrity & Ethics
Dilmah Tea Inspired
Leisure and Hospitality
Knowledge & Training
Online Shop
Lunch Happy Hour with Peter Kuruvita
Lunch Happy Hour with Peter Kuruvita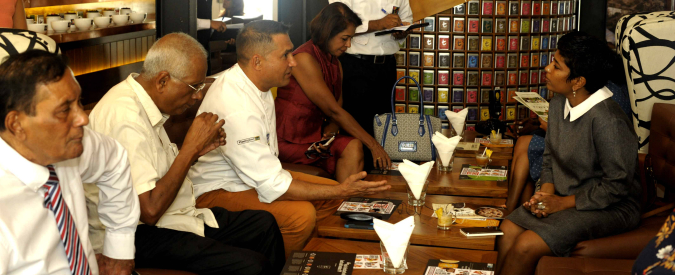 The t-Lounge by Dilmah hosted celebrity chef, restaurateur and media personality Peter Kuruvita at a special event held at their outlet on Chatham Street on 18 July to mark the official launch of an exciting new tea-inspired menu, specially designed for lunch hour. The 'Lunch Happy Hour' introduces five exceptional tea and food pairings celebrating the art of tea gastronomy and mixology and is crafted especially for the executive and decision-makers of the 21st century. Presenting a selection of the finest range of gourmet Dilmah teas and cuisine admired by Chef Kuruvita himself, the combination servings include:

- Chicken Burger, made with Ceylon Souchong Tea-infused buns paired with Moroccan Mint, Prince of Kandy or Blueberry & Pomegranate iced tea. - Cheese and Tomato Pizza, made with Ceylon Souchong infused pizza bread paired with Moroccan Mint, Prince of Kandy or Blueberry & Pomegranate iced tea. - Churros with Caramel Dip paired with First Ceylon Oolong or Nuwara Eliya Pekoe hot tea. - Baked Cheese Cake with Pomegranate Sauce paired with Cinnamon Spice hot tea, Vanilla Ceylon hot tea or Ceylon Young Hyson green tea, served hot. - Sweet Chocolate Chilli o'Mine -a chilli chocolate, ginger tea and nougat pot- paired with Ceylon Ginger Tea.

Available exclusively at the t Lounge by Dilmah on Chatham Street between 12.00-2.00pm on weekdays from Monday - Friday, the menu is offered at a special combination price and will be presented over the following weeks.

The t-Lounge by Dilmah's latest culinary presentation showcased in this new menu is an extension of Dilmah's vision for a true renaissance in tea, letting you experiment with flavour and the traditions of tea culture while getting acquainted with tea as you have never before.
Disclaimer Notice
These images are copyright protected and can only be used for Dilmah articles with due credit given.