Press release and images on Learning through Nature Appreciation from Dilmah
Menu
Dilmah Food Service
Integrity & Ethics
Dilmah Tea Inspired
Leisure and Hospitality
Knowledge & Training
Online Shop
Learning through Nature Appreciation
Learning through Nature Appreciation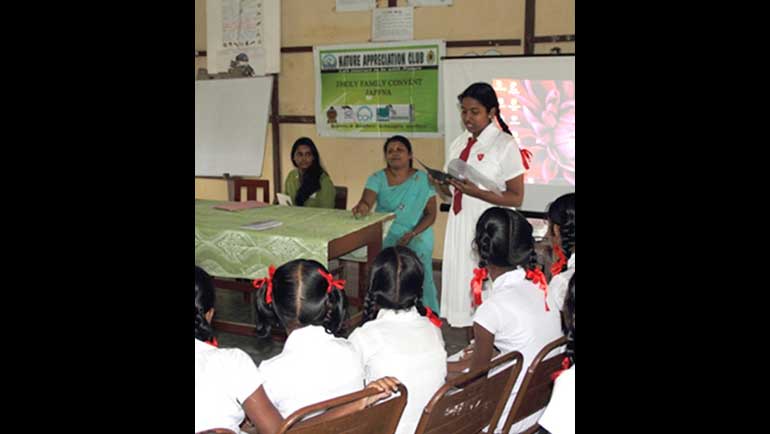 Dilmah Conservation is committed to encouraging learning and a sense of responsibility towards the environment to promote the importance of diversity and the conservation of nature.
The Reconciliation through the Power of Nature Initiative was founded in partnership with the Field Ornithological Group of Sri Lanka (FOGSL) and the Centre for Children's Happiness Jaffna (CCH) with the aim of using nature as a common platform to foster a shared appreciation for our island's biodiversity and natural heritage.
As part of this initiative over 50 Nature Appreciation Clubs were established in the Jaffna District alone. The Dilmah Conservation team recently visited Jaffna to learn more about the activities of four vibrant Nature Appreciation Clubs in Holy Family Convent, Canagarathinam M.V, Mahajana College and Chulipuram Victoria College where students were actively leading their learning through club activities. Students were engaged in numerous activities on their own initiative, including tree planting, setting up herb gardens and conducting 'shramadana' programmes.
Moreover, clubs have enthusiastically participated in various discussions and school competitions pertaining to environmental conservation. Members have also taken part in various field excursions to learn more about the natural environment in Jaffna by way of bird watching and documenting local ecosystems towards gaining a better understanding of research methods in practice.
Students at Mahajana College have initiated the compilation of a quarterly nature magazine to raise awareness among fellow students.
Dilmah Conservation is proud to support the commendable efforts of these Nature Appreciation Clubs and will facilitate further links among them towards wider learning and engagement.
Disclaimer Notice
These images are copyright protected and can only be used for Dilmah articles with due credit given.