Press release and images on Knowledge and Passion Come Alive with Dilmah at the World Chefs' Congress from Dilmah
Menu
Dilmah Food Service
Integrity & Ethics
Dilmah Tea Inspired
Leisure and Hospitality
Knowledge & Training
Online Shop
Knowledge and Passion Come Alive with Dilmah at the World Chefs' Congress
Knowledge and Passion Come Alive with Dilmah at the World Chefs' Congress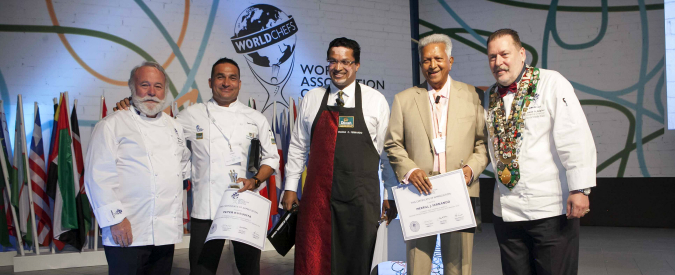 Dilmah shared evocative knowledge and passion with a gathering of over 1000 chefs, being the main sponsor and exclusive tea sponsor of the World Chefs' Congress, which took place on the 25th of September 2016 in Greece. Dilmah founder Merrill J. Fernando, his son Dilhan C. Fernando and Dilmah Brand Ambassador Chef Peter Kuruvita shared their raison d'être with chefs and food connoisseurs from around the world.
The congress and expo- which continued from 24th to 26th September in Thessaloniki, Greece- featured keynote speakers, 4 days of culinary challenges, live culinary demonstrations, workshops and an international trade fair. The congress was, essentially, an inspired network where professionals in the culinary world met under one roof.
The event opened with a welcoming serving of Dilmah's most precious and exclusive tea, the Uva Seasonal Flush of 2016; going behind the scenes of Dilmah and Dilmah Innovations which included The Chef & The Teamaker, Dilmah Real High Tea, Tea Inspired Food & Chefs; an Introduction to Crafting an Experience with Tea presented by Director of the School of Tea, Dilhan C. Fernando; a presentation on Tea & Cuisine with "Tea as an ingredient" by Celebrity Chef Peter Kuruvita; an incredibly moving presentation on Ethical Tea and the founder's life story and struggles, the highly personal cause which makes up the indomitable spirit and lifeblood of the MJF Charitable Foundation with a philosophy that business is a matter of human service, and protection of all lives through conservation and research- be it an indigenous society, forest or animal- led by Dilmah Conservation. The latter was presented by Merrill J. Fernando himself. Charles Carroll, Executive Chef at River Oaks Country Club and attendee at the congress commented that "Worldchefs and I were so proud to see [Merrill J. Fernando] and have [him] for a keynote speaker. I had tears in my eyes to see how our membership responded with a standing ovation. Congratulations for being such an inspiration for the entire world."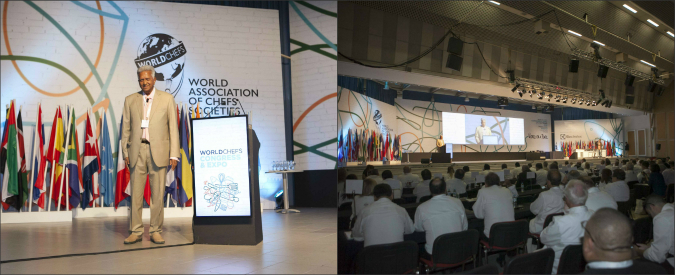 The much awaited Global Chef Challenge Finals in partnership with Dilmah was also held at this event after a year of intense competition across 6 continents. 40 of the world's top chefs pitted their culinary skills against each other at the finals. Yusuke Aoki from Qatar was adjudged the winner of the "Overall best use of Dilmah tea" in the desserts category and will be participating at the next School of Tea programme due to be held in Sri Lanka in February 2017.
Following this was a special tea break experience which involved tea and food pairings and a gastronomic tea inspired dessert prepared by Chef Peter Kuruvita. The pairings were Lychee with Rose & Almond tea paired with Sausage Rolls with HP sauce, Brilliant Breakfast tea paired with Spinach Pie, Tie Guan Yin tea paired with plain Cheesecake, and the star of the menu- Chef Peter Kuruvita's Traditional Greek Semolina Cake infused with Lychee with Rose & Almond Tea. Every chef and lover of tea walked away with a loose leaf caddy of Park Estate Emerald Green Special OP, Rilhena First Ceylon Souchong and Opata Estate Pekoe as a memento.
Thomas A. Gugler, president at World Chefs, spoke of Merrill. J Fernando's speech at the event and said that he was "a pioneer of humanity and great spiritual mind and nothing could stop [his] way in being super successful, very humble and a visionary of a dream- the tea dream of Sri Lanka (former Ceylon) to begin its story from A to Z. On the same hand I want to thank [him] for the great support of WACS and this will be, as we both dream big, a never ending story."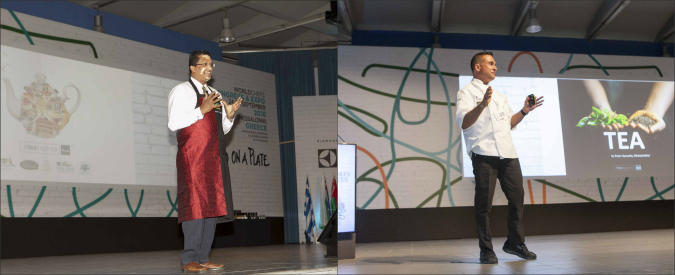 Disclaimer Notice
These images are copyright protected and can only be used for Dilmah articles with due credit given.