Press release and images on Indulge in an evening of Tea Inspired Delights with Peter Kuruvita from Dilmah
Menu
Dilmah Food Service
Integrity & Ethics
Dilmah Tea Inspired
Leisure and Hospitality
Knowledge & Training
Online Shop
Indulge in an evening of Tea Inspired Delights with Peter Kuruvita
Indulge in an evening of Tea Inspired Delights with Peter Kuruvita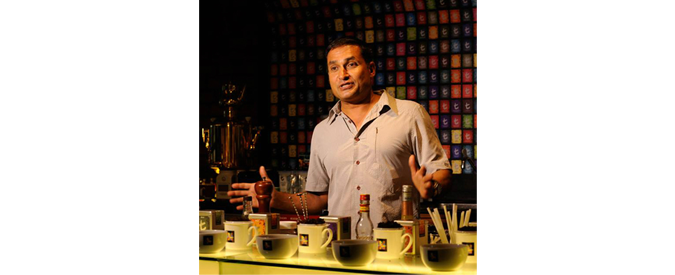 Indulge in an evening of Tea Inspired Delights with renowned Celebrity Chef Peter Kuruvita on Sunday, the 17th of July from 4-6pm at the t-Lounge by Dilmah at Chatham Street, where he will present his latest tea inspired menu, which was especially crafted for the lovers of tea.
Enjoy unique dishes such as Ceylon Souchong-marinated chicken and market vege wrap, Italian Almond Lamb kofta served on pita bread with salad, Earl Grey-infused chocolate truffles, doughnuts filled with Rose & French Vanilla tea custard and tea-infused marshmallows.
The celebrity chef, author, restaurateur has always been a genuine admirer of Dilmah's fresh distinct flavor that has inspired tea gastronomy. Tea gastronomy is a concept by Dilmah which is now creating a trend of tea inspired cuisine in the global food industry. Peter is currently on a tour of Dilmah t-lounges in Malaysia, Sri Lanka and Kuwait and will be introducing a range of tea inspired delicacies.
Seating is limited for this exclusive tea-inspired event, so be sure to reserve your seats early.
Make your reservation by clicking
here
*
 In 'Special Requirements' field, mention Peter Kuruvita's name when making a reservation for this event.
Disclaimer Notice
These images are copyright protected and can only be used for Dilmah articles with due credit given.