Press release and images on Heads of State to join business leaders and UN Chiefs to discuss COVID-19, inequality and climate crises at the UN Global Compact 20th Anniversary Leaders Summit from Dilmah
Menu
Dilmah Food Service
Integrity & Ethics
Dilmah Tea Inspired
Leisure and Hospitality
Knowledge & Training
Online Shop
Heads of State to join business leaders and UN Chiefs to discuss COVID-19, inequality and climate crises at the UN Global Compact 20th Anniversary Leaders Summit
United Nations Global Compact 20th Anniversary Leaders Summit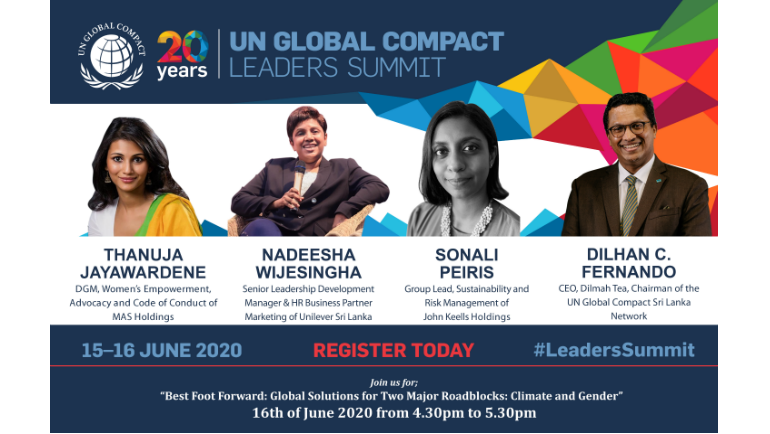 WHAT:
United Nations Global Compact 20th Anniversary Leaders Summit
WHEN:
15 - 16 June 2020
WHERE:
Virtual summit (registration details below)
German Chancellor Angela Merkel and the Presidents of Botswana, Colombia, Costa Rica, Ethiopia will join dozens of Chief Executive Officers and UN chiefs at the United Nations Global Compact's Leaders Summit next week to address the private sector's response to three global crises – health, inequality and climate.
With more than 15,000 attendees already registered for more than 100 global, regional and local sessions, the virtual Leaders Summit on 15-16 June will be the UN's largest, most inclusive and most sustainable convening of purpose-driven business leaders wanting to tackle societal challenges and advance the Sustainable Development Goals (SDGs).
Under the theme Recover Better, Recover Stronger, Recover Together, the Summit will start and end at the UN Headquarters in New York and "chase the sun" for 26 hours allowing speakers and attendees from 68 Global Compact Local Networks to participate in their own time zones and languages.
Marking the 20th anniversary of the UN Global Compact, the Leaders Summit provides a platform where leaders from business, civil society and the United Nations will be challenged to increase their ambition to achieve the SDGs.
Former US Vice President Al Gore, UN Special Envoy on Climate Action and Climate Finance Mark Carney, Former UN Secretary-General Ban Ki-moon and the Climate Champions of COP 25 and COP 26 Gonzalo Muñoz and Nigel Topping will be discussing the climate crisis.
Other high-level Summit speakers include UN Global Compact Board Vice-Chairs Paul Polman and Bola Adesola, the heads of the Commonwealth, International Chamber of Commerce, NEPAD, International Trade Union Confederation, International Chamber of Shipping, and from academia Ilian Mihov the Dean of INSEAD and Professor Firmanzah, Rector of Paramadina University.
More than 20 UN agencies, funds and programmes will also showcase their work with the business sector and participants will hear from the President of the UN General Assembly, the UN Secretary-General and Deputy Secretary-General, the heads of ILO, UNICEF, UNIDO, WFP, UN Office for the Coordination of Humanitarian Affairs, UNFCCC, UN Environment Programme, the Economic Commission for Latin America and the Caribbean (ECLAC) and the UN High Commissioner for Human Rights.
Confirmed speakers include the CEOs of AB InBev, Accenture, Acciona, Ambev, ARPA, CP Group, Dilma, DNV GL, Ecolab, Ekos Group, Enel, En+, Green Delta Insurance, H&M, Investec, KENGEN, Kokusai Kogyo, Melvin Marsh, Ménara Holding, Natura, Olam International, PT Supra Boga Lestari Tbk, PVH, Russell Reynolds Associates, Savco, Schneider Electric, Solvay, Sterling Bank, TAHA, The Lux Collective, Volans, and the Board Chair of Maersk and Siemens.
The UN Global Compact Sri Lanka Network will be hosting a breakout session titled "
Best Foot Forward: Global Solutions for Two Major Roadblocks: Climate and Gender
" at the Virtual Leaders Summit, on the
16th of June 2020 from 4.30pm to 5.30pm (7am to 8am EST)
. Sri Lanka, as one of the fastest growing markets in the world, possesses abundant opportunities and fascinating approaches to cross-cutting Sustainable Development Goals. The session will be an opportunity to share long standing initiatives led by the country's private sector on Climate and Gender. These world class initiatives powered by strong and consistent management commitment for over a decade or more have proved to have consistently enhanced economic and social capitals of the business. Recognized as global best practices that significantly differentiated their brands in local and global markets, these initiatives could possibly be multiplied across continents to enrich local economies and uplift living standards of local communities.
The panelists for the Sri Lanka Network session are as follows;
Mr. Dilhan C. Fernando
– CEO of Dilmah Ceylon Tea Company PLC. and Chairman of the UN Global Compact Sri Lanka Network,
Ms. Sonali Peiris
- Group Lead, Sustainability and Risk Management of John Keells Holdings PLC.,
Ms. Thanuja Jayawardene
– Deputy General Manager, Women's Empowerment, Advocacy and Code of Conduct of MAS Holdings (Pvt) Ltd. and
Ms. Nadeesha Wijesingha
– Senior Leadership Development Manager & HR Business Partner Marketing of Unilever Sri Lanka.
For full programme and to register to attend please visit -
https://registration.unglobalcompact.org/website/12559/home/
Disclaimer Notice
These images are copyright protected and can only be used for Dilmah articles with due credit given.