Press release and images on Global Partners Plant Trees from Dilmah
Menu
Dilmah Food Service
Integrity & Ethics
Dilmah Tea Inspired
Leisure and Hospitality
Knowledge & Training
Online Shop
Global Partners Plant Trees
Global Partners Plant Trees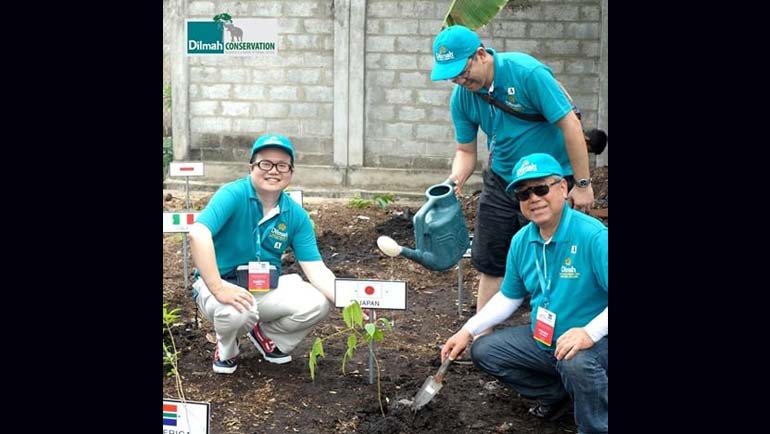 In an effort to reduce environmental impact and interlinked climatic consequences, Dilmah vowed to become Carbon neutral by 2017. A milestone which, through the proactive reduction and offsetting of its CO2 emissions, will mark a net zero release of Carbon into the atmosphere through Dilmah's operations.

As part of this commitment, 107 global partners of Dilmah took a pledge on the 7th of May 2016, jointly committing to work towards achieving carbon neutrality. To initiate their active commitment in fulfilling this pledge, each partner planted a tree at the Dilmah Conservation Sustainable Agriculture and Research Center (DCSARC) in Moratuwa, Sri Lanka.

Planting a tree remains the most effective tool in offsetting carbon emissions. A single tree can absorb as much as 48 pounds of CO2 a year. With this simple, yet momentous, step Dilmah and its global partners vow to significantly reduce and offset their carbon footprint, taking a firm stand against climate change.
Disclaimer Notice
These images are copyright protected and can only be used for Dilmah articles with due credit given.