Press release and images on Exploring the depths in search of a momentous past from Dilmah
Menu
Dilmah Food Service
Integrity & Ethics
Dilmah Tea Inspired
Leisure and Hospitality
Knowledge & Training
Online Shop
Exploring the depths in search of a momentous past
Exploring the depths in search of a momentous past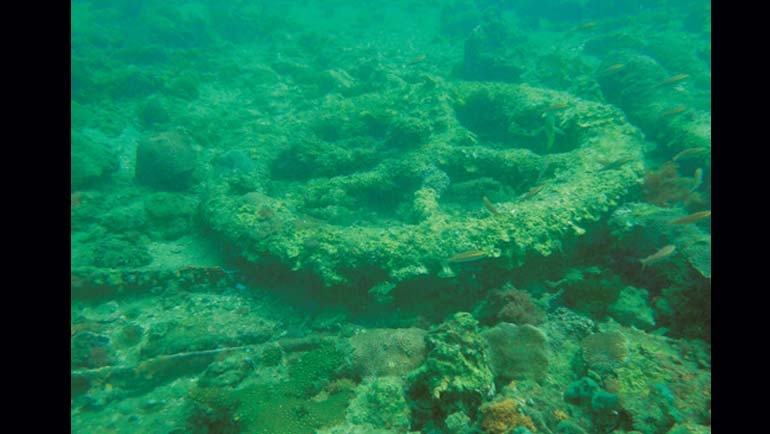 In an endeavor to further explore the site of an extraordinary discovery of a metal chariot wheel found by a team of divers from Dilmah Conservation, a special expedition to document the site was recently concluded along with representatives of the Maritime Archaeology unit and the Central Cultural Fund of Sri Lanka.
A team comprising of Asanka Abayakoon, Prasanna Weerakkody and K. Lakmal from Dilmah Conservation, and Chandraratne Wijamunige – the keeper of the Galle Maritime Archaeology Museum, Maritime Archaeologist Rasika Muthucumarana and Maritime Archaeologist A.M.A Dayananada from the Central Cultural Fund engaged in recording and assessing the location where the metal chariot wheel and a number of manmade relics were recently discovered.
Preliminary expert observations have indicated that this location marks the wreck of a wooden ship belonging to either the Dutch or Portuguese period. The Portuguese colonization of Ceylon lasted from 1505 – 1658, while the Dutch Period ensued from 1640 – 1796. This span of nearly two and a half centuries not only marked a time of conflict between the two groups, but aided Ceylon's transformation into a bustling centre of international trade and commerce given its key location on maritime routes between the East and the West. Given this historical context defined by a variety of social, political and economic cross-border interactions, this wreck could provide significant historical evidence and insight into this period in world history.
Aside from the durable metal wheel measuring between 100 – 120 cm and the noteworthy distribution of other remnants, a considerable scattering of the ship's stone ballast was also recorded.
The dispersion of stone ballast material offers noteworthy evidence of the time span to which this erstwhile vessel belonged to, as stone bricks were a traditional form of ballast which would be typically replaced by the likes of iron or led in vessels built after the industrial revolution. Historically, stones or sand were placed at the bottom of a ship's keel to render the vessel more stable and upright, especially when a ship was sailing without a full cargo shipment.
Therefore, it is possible that the ship which was not travelling with a full load, but was carrying a smaller and perhaps even more valuable consignment. The distinctive chariot wheel could hold important clues as to what was being transported in this vessel when it sank. The team from the Central Cultural Fund obtained samples from the site for carbon dating purposes in order to correctly approximate the years to which these artifacts belong.
Disclaimer Notice
These images are copyright protected and can only be used for Dilmah articles with due credit given.