Press release and images on Discovery of a Remarkable Underwater Archaeological Site from Dilmah
Menu
Dilmah Food Service
Integrity & Ethics
Dilmah Tea Inspired
Leisure and Hospitality
Knowledge & Training
Online Shop
Discovery of a Remarkable Underwater Archaeological Site
Discovery of a Remarkable Underwater Archaeological Site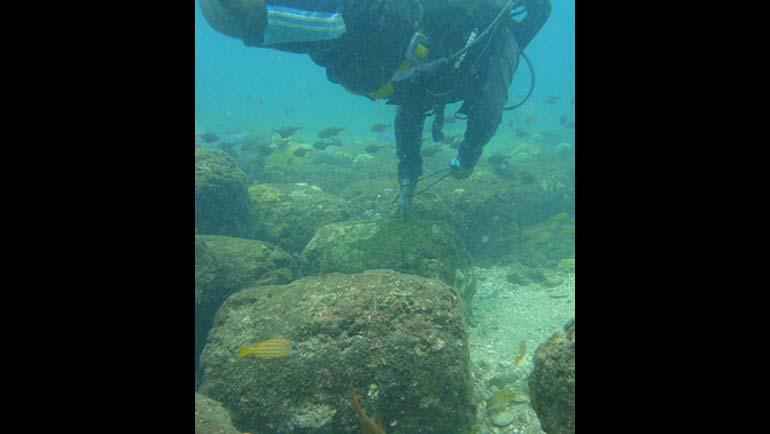 Dilmah Conservation recently made a stunning discovery of a metal chariot wheel at the site of a historic shipwreck site while documenting marine habitats in the North-East of Sri Lanka. The site was further explored by a team of specialists from Dilmah Conservation and the Central Cultural Fund towards assessing its historical significance.
On a recent expedition to further authenticate the site of the remarkable chariot wheel which is now assumed to be host to more than one ship wreck, a team comprised of archaeologist Rukshan Jayewardene, marine historian Prasanna Weerakkody and Asanka Abayakoon from Dilmah Conservation discovered another astonishing unexplored underwater site 10 km south of the location of the chariot wheel.
Adjacent port towns such as Mannar and Kudiramalai were of considerable historical importance as vibrant centres for international trade famed for pearl fishing and horse trading. The history of this coastline, which goes as far back as 6th Century BC to the presence of the Naga Kingdom, and the exploits of its erstwhile rulers, is steeped in legend. Notable among these, is the warrior Queen Alli Arasani who is said to have ruled North-Western Sri Lanka over two-thousand years ago.
The legendary queen from Kudiramalai is said to have traded local pearls for Arabian horses. On the suggestion of a boatman who accompanied the expedition, the Dilmah Conservation team located what was dubbed the 'boulder garden of Alli Rani'. Here, hundreds of manmade boulders engraved with distinctive grooves were arranged in a geometric pattern on the ocean floor, potentially marking the site of an archaeological edifice which has now been engulfed by the sea. While local legends point to Queen Alli, whose reign was also believed to be marked by a natural disaster that resulted in portions of the coastline being submerged by the ocean, further excavation and analysis is required to determine the veracity of these claims.
The preliminary assessment of the hand-hewn boulders and their curious concentric arrangement indicate that this site could belong to an ancient period of Sri Lankan history and could provide significant insight into the history of the North-Western region and even international maritime trade at large.
Dilmah Conservation will continue to support excavations and further study of these sites in order to help determine their historical and archaeological relevance.
Disclaimer Notice
These images are copyright protected and can only be used for Dilmah articles with due credit given.