Press release and images on Dilmah Wins Product of the Year from Dilmah
Menu
Dilmah Food Service
Integrity & Ethics
Dilmah Tea Inspired
Leisure and Hospitality
Knowledge & Training
Online Shop
Dilmah Wins Product of the Year
Family tea company wins the 2020 Product of the Year for a new range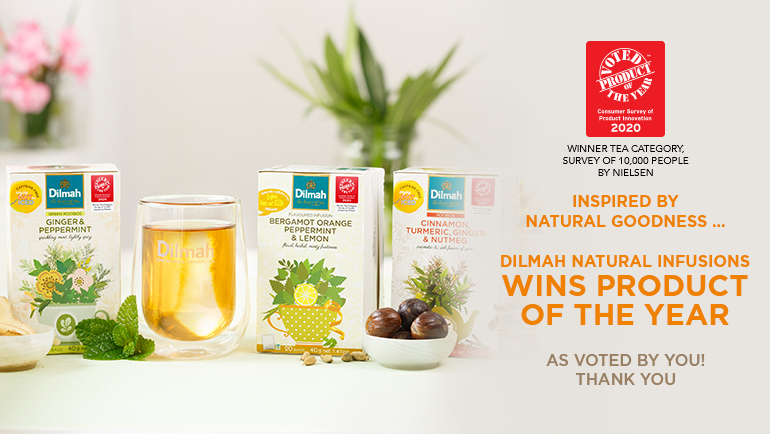 15 November, Melbourne, Australia
– Founder of Dilmah – Merrill J. Fernando – accepted the prestigious consumer award for Product of the Year for the Dilmah Natural Infusions last night. The winning range includes three natural wellness inspired infusions.
Product of the Year accepts entries every year from products around the world that demonstrate innovation and were launched within the previous year (survey of 10,000 people by Nielsen). The Product of the Year is the world's largest consumer-voted award for product innovation. The Dilmah Infusions range has been voted number one in the tea category this year and will hold this seal for the next 12 months.
Each infusion is caffeine-free and made from a combination of Sri Lankan spices and herbs that contain powerful antioxidants and anti-inflammatory benefits - promoting overall wellness and healing with every sip.
"I named Dilmah after my sons Dilhan and Malik, and it is just as precious to me. I will never compromise on the great taste, natural goodness and ethical purpose which form the heart of Dilmah. I first brought Dilmah to Australia in the 1980s as a tea grower with a dream of launching my own brand. Everyone told me it was impossible, but Australian tea drinkers appreciate the taste and goodness in my tea and gave me the break I needed. I am humbled that 32 years later Australian consumers have once again recognised my commitment to quality, authenticity and a genuine purpose" says Mr. Fernando.
The Dilmah Infusions are inspired by the natural goodness that is the foundation of the Sri Lankan Ayurveda and ingredients produced by local artisans. In addition to its handpicked teas, Dilmah produces Ceylon Cinnamon, known for its health benefits whilst turmeric, clove, moringa, cardamom and other ingredients are produced by artisan farmers. The combination of great taste and natural goodness come from the authentic, handpicked herbs, roots and spices used in the Infusions.
Since launching, Dilmah has expanded to over 100 countries, yet maintaining its founding commitment to quality and integrity. A minimum 15% of the profits from the sale of Dilmah are used by Merrill J. Fernando's MJF Charitable Foundation to serve humanity in projects that support marginalised women and differently abled youth whilst promoting conservation and sustainable agriculture.
Dilmah's Infusions teas can be purchased from Coles and Metcash stores in Australia or online at
shop.dilmahtea.com.au
About Dilmah –
www.dilmahtea.com
Sri Lankan family tea company Dilmah, founded by Merrill J. Fernando, today the world's most experienced teamaker, has championed quality, authenticity and variety in tea. Dilmah pioneered the concept of Single Origin Tea in 1988 when the family company went against industry trends to declare its commitment to authenticity. Garden fresh, unblended tea is a hallmark of Dilmah and offers a unique taste of unblended Ceylon Tea packed at source.
Dilmah is Ethical Tea, in that all packaging profits are retained in Sri Lanka and fund the MJF Charitable Foundation and Dilmah Conservation.
About Merrill J. Fernando Charitable Foundation
-
www.mjffoundation.org
Founded in 2002 and expanding following the tsunami in 2004, the MJF Charitable Foundation represents an alternative economic model, it transcends charity and corporate social responsibility one that is a genuinely sustainable and fair way of doing business. This 'way' acknowledges that social justice, community and the environment are integral elements in any business process not as options or part of a marketing led Corporate Social Responsibility (CSR) strategy but as a core feature of the business objectives. It currently works in 17 locations across Sri Lanka and serves approximately 10,000 people on a weekly basis.
About Dilmah Conservation
-
www.dilmahconservation.org
Dilmah Conservation was initiated in 2007 to incorporate environmental and wildlife conservation efforts into the work of the MJF Charitable Foundation. Dilmah Conservation works towards the sustainable use of the environment in partnership with various governmental and non-governmental organizations. The Dilmah company's philosophy of "
making business a matter of human service
" is deeply ingrained in the work carried out by Dilmah Conservation.
For more information, please visit
www.facebook.com/DilmahAustralia
www.dilmahtea.com
pressroom.dilmahtea.com
www.instagram.com/dilmahaustralia
www.youtube.com/dilmahrealtea
www.linkedin.com/company/dilmah-mjf/
Disclaimer Notice
These images are copyright protected and can only be used for Dilmah articles with due credit given.