Press release and images on Dilmah to Commission Second Solar Power Plant from Dilmah
Menu
Dilmah Food Service
Integrity & Ethics
Dilmah Tea Inspired
Leisure and Hospitality
Knowledge & Training
Online Shop
Dilmah to Commission Second Solar Power Plant
February 24, 2016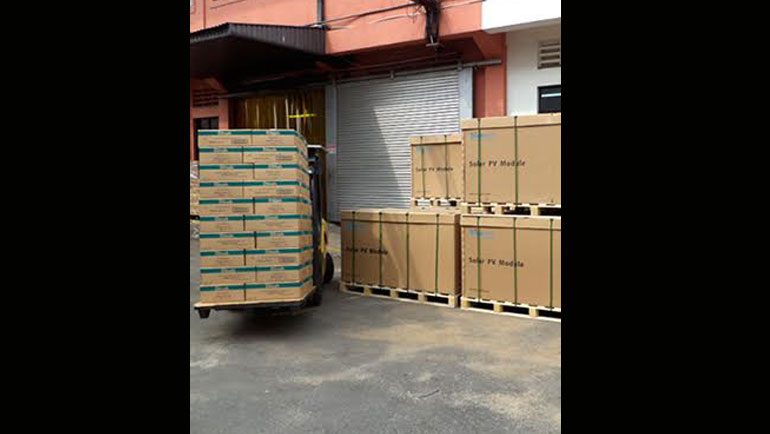 Dilmah will be commissioning its second solar power plant to expand its reliance on renewable energy, moving another step closer toward its goal of becoming carbon neutral by 2017. It will be one of the largest privately-held solar power generating plants in Sri Lanka. This second set of panels, like the existing one, will be installed at the company headquarters in Peliyagoda.
The new 150 KW plant, scheduled to be commissioned in April of this year, will add to the power generation of the existing 100 KW plant. Prior to installing the solar panels, Dilmah Conservation, in collaboration with the University of Colombo, carried out a comprehensive Carbon Footprint Calculation study in 2013. The findings and recommendations of that study were used to develop the Carbon Neutrality Action Plan to help the company reach its carbon-neutral target. The installation of the solar panels was one such recommendation. Sri Lanka's tropical climate provides ample sunlight to the solar array, which is already operating 15% beyond expectations. Since 2013, the fully functional solar facility has generated approximately 11.1 MWh of solar power, on average, every month. So far this year (for January and February), the plant has generated more than 21 MWh. In total, the plant has generated more than 411 MWh of energy during the three years that it has been operational and as at February 2016, more than 161,000 Kg of CO2 have been saved from being emitted to the atmosphere as a result of the clean energy generated through the solar array. You can track our solar power generation in real-time through this online monitoring portal. Click here to see more info.
Through these measures, Dilmah is continuously increasing the amount of renewable energy that is used in its core operations, which in turn will reduce the company's dependency on power from the national grid, leading to a reduction in the current electricity tariff rate. On the supply side, plans are underway to reduce emissions from 1,000 tons to 450 tons through other projects, which include initiatives to promote the use of renewable energy and bioremediation in Dilmah estates, and reforestation and habitat restoration in the northern and eastern parts of the island.
Disclaimer Notice
These images are copyright protected and can only be used for Dilmah articles with due credit given.