Press release and images on Dilmah Tea inspired gastronomy innovations at Culinary Art 2013 from Dilmah
Menu
Dilmah Food Service
Integrity & Ethics
Dilmah Tea Inspired
Leisure and Hospitality
Knowledge & Training
Online Shop
Dilmah Tea inspired gastronomy innovations at Culinary Art 2013
5th August 2013, Colombo, Sri Lanka ?? The Dilmah Tea inspired Tea Gastronomy Innovation concluded at Culinary Art 2013 with tea being adjudged the ultimate winner. Heritance Kandalama achieved gold by presenting Dilmah Tea inspired cuisine and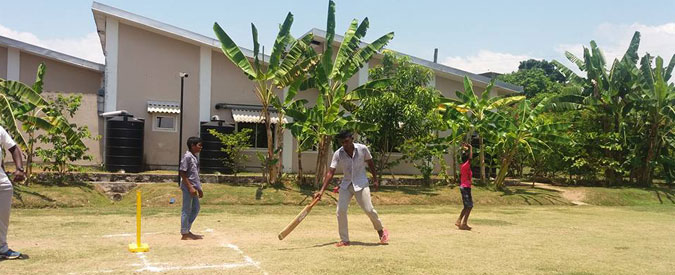 Chef S. R. Liyanage and Apprentice Duminda Lakmal Wijesiri, from Heritance Kandalama presented the winning Dilmah Tea Gastronomy Innovation using a Dilmah Italian Almond and Rose with French Vanilla Tea. Their presentation of a Dilmah Italian Almond Tea infused salmon wonder bar on light saffron bread and Dilmah Rose with French Vanilla Tea infused candid Orange and velrona sandwich served were applauded by the eminent panel of judges which included Black Hat and World Association of Chefs Societies - WACS reference Chef, Bernd Uber and former Executive Chef of Etihad, Werner Kimmeringer and Dilmah tea taster Menura Ratnayake. The entry also included Gravi-Tea, a cocktail combining Dilmah Italian Almond Tea, peach concentrate, cinnamon syrup, lime juice and cherry brandy.
The Culinary Art show is one of the world's ultimate food and hospitality trade shows featuring over 2600 hospitality professionals and over 130 hospitality venues. It has been held since 1988 and Dilmah has been involved in the programme since 2007 to encourage young chefs to combine tea and cuisine and present award winning creations. This year the competition covered 23 different categories ranging from five course dinners to ice carving, food presentation and Dilmah Tea inspired gastronomy.

The twelve shortlisted teams representing some of the best culinary institutions in the country presented tea infused savouries and sweet items as well as mocktails and cocktails for the gold, silver and bronze medals on offer. The chefs used teas from the Dilmah t-Series Designer Gourmet Range and the Watte Single Region tea selection for their creations.
Dilmah pioneered the exploration of tea in gastronomy with the Dilmah Tea Gastronomy initiative which began in 1999 and has since grown into Tea Mixology, Real High Tea Challenge, the Chefs and the Teamaker and other concepts that have taken fine Ceylon Tea beyond the cup. The latest addition to Dilmah's exploration in fine tea is the t-Lounge on Chatham Street, which offers tea aficionados a real 21st century tea experience.

Disclaimer Notice
These images are copyright protected and can only be used for Dilmah articles with due credit given.