Press release and images on Dilmah tea in the 'Brands with a Conscience' publication from Dilmah
Menu
Dilmah Food Service
Integrity & Ethics
Dilmah Tea Inspired
Leisure and Hospitality
Knowledge & Training
Online Shop
Dilmah tea in the 'Brands with a Conscience' publication
April 5th, 2016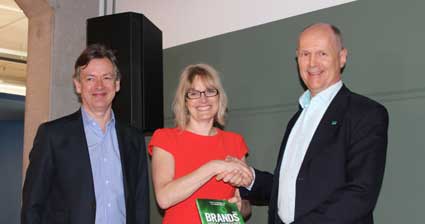 Dilmah Tea is highlighted as a brand with a conscience in the new publication by the Medinge Group, "Brands with a Conscience" . In 2005 Dilmah was the proud recipient of the prestigious award by the Medinge Group the "2005 Top Brand with a Conscience". The new book was released on Thursday March 31st at a presentation held in Amsterdam. The book covers a number of studies including winners of the Medinge award and noteworthy cases. The Dilmah case study was written by reputed author Jack Yan from New Zealand.
Dilmah had already been one of eight companies shortlisted for the Medinge award in 2004, when the Boxing Day tsunami happened. The Merrill J. Fernando Charitable Foundation sprang into action initiating over a 100 projects to assist the affected. "If the world needed proof that Medinge had made the right choice in its Brands with a Conscience awards, nature provided the catalyst", says Yan in his report.
According to the Medinge Group the main motivation behind writing the book was to inspire other organizations to become conscientious. It helps dissect the philosophies that underpin brands with a conscience and which can be used as the foundation for a strategy towards responsible growth. It goes a long way towards companies building long term customer loyalty and trust as it eliminates the chance of bad practices that can be unmasked causing damage to a brand's reputation.
Dilmah Founder Merrill J. Fernando also received the Business for Peace Award on the 6th of May 2015, in Oslo. The Business for Peace Foundation annually names honourees for the Oslo Business for Peace Award in recognition of business persons who, "through their own actions and commitments truly are business worthy, promoting socially responsible and ethical business practices in an outstanding way, and standing out as examples to the world.
"Medinge Group is a high-level branding think-tank that has taken on the challenge of trying to re-define branding. It works towards promoting the point of view that brands should think and behave responsibly, to be both 'human and humane'.
Click Here to View More Info
Disclaimer Notice
These images are copyright protected and can only be used for Dilmah articles with due credit given.