Press release and images on Dilmah tea establishes largest privately held solar power plant in Sri Lanka from Dilmah
Menu
Dilmah Food Service
Integrity & Ethics
Dilmah Tea Inspired
Leisure and Hospitality
Knowledge & Training
Online Shop
Dilmah tea establishes largest privately held solar power plant in Sri Lanka
As part of a commitment to sustainability and carbon neutrality Dilmah makes a major commitment to renewable energy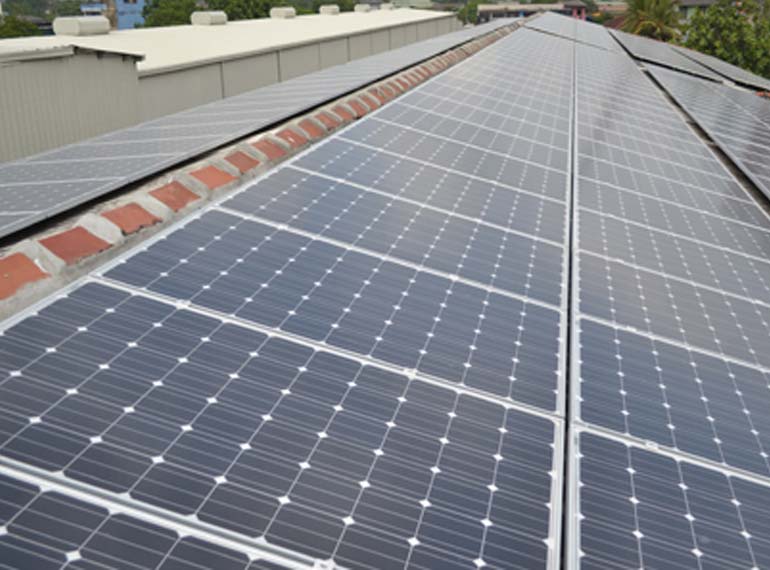 The largest privately held solar power generating plant in the country was recently established by Dilmah, at their Peliyagoda office and production facility. This initiative is a part of Dilmah's core commitment to sustainability which also led to the establishment of Dilmah Conservation. An assessment of the sustainability of all Dilmah operations was carried out by IUCN - International Union for the Conservation of Nature, to ensure sustainable interaction with the environment. The solar plant is also a part of a commitment to achieving carbon neutrality within 5 years.

417 solar panels have already been set up, generating 100 kWp (Kilo Watts Peak). The fully functional solar facility will generate around 150,000 kWh (Kilo Watt Hours) of solar power every year. Solar power is a clean and sustainable alternative to biofuels. The geographic positioning of Sri Lanka in close proximity to the equator provides ample sunlight to the solar array which is already operating 15% beyond expectation. Since the facility began its test run in early February, an estimated 8000 kilogrammes of CO2 emissions have been saved.

Given the enduring connection between Tea and Nature, the ethical alignment of the family tea company requires a defined and tangible commitment to sustainability. Dilmah Conservation was established in 2007 to implement that philosophy, utilising earnings from Dilmah to conserve species, promote biodiversity and to research and implement sustainability initiatives. Dilmah Conservation is a founding partner of the Business @ Biodiversity Platform, an initiative amongst the Ceylon Chamber of Commerce, IUCN and Dilmah Conservation to encourage businesses to integrate sustainability into their business model and implement positive environmental intervention.

The solar panels at Dilmah were powered by PROINSO, a global leader in the supply of PV solar products who were supported by their local technical partner JLanka, Qualified Installers in PROINSO's International Network, to install the panels at Dilmah.

Disclaimer Notice
These images are copyright protected and can only be used for Dilmah articles with due credit given.