Press release and images on Dilmah's Marine Conservation Program Receives National Recognition from Dilmah
Menu
Dilmah Food Service
Integrity & Ethics
Dilmah Tea Inspired
Leisure and Hospitality
Knowledge & Training
Online Shop
Dilmah's Marine Conservation Program Receives National Recognition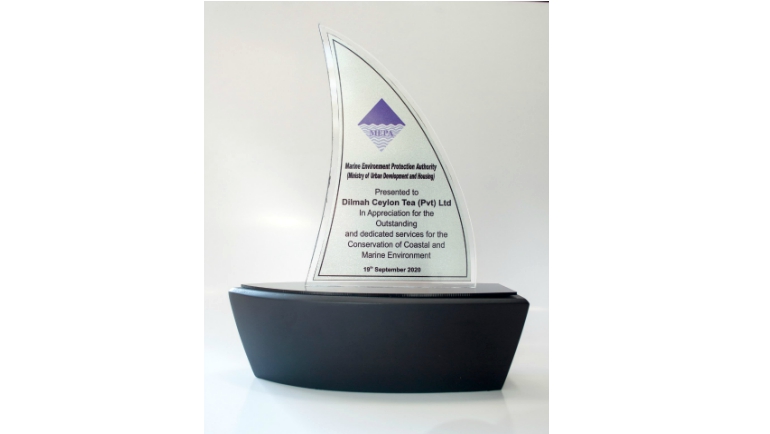 Dilmah Tea was recognized as one of two leading corporate organizations committed to the conservation of coastal and marine communities of Sri Lanka by the Marine Environmental Protection Authority (MEPA) to commemorate the International Coastal Clean Up Day on the 19th of September 2020. The award was presented to Dilmah tea by Hon. Dr. Nalaka Godahewa (State Minister of Urban Development, Coast Conservation, Waste Disposal and Community Cleanliness) at the inauguration of the cleanup and was presided over by the Prime Minister of Sri Lanka, The Minister of Fisheries, the Minister of Environment and other state officials including the chiefs of Sri Lankan Tri Forces.

As a business with an enduring connection with the elements of nature, Dilmah has remained committed to the preservation and conservation of Sri Lanka's natural resources through its conservation arm, Dilmah Conservation.

Dilmah's Marine Conservation program is multi-faceted, ranging from single species conservation such as restoring Sri Lanka's elusive Dugong population in the North and East regions of Sri Lanka through awareness and education to supporting the Department of Wildlife to gazette and change the conservation status of Kayankerni Reef, located off Kalkudah in the East Coast, to be named the 18th marine sanctuary in Sri Lanka. Additionally, in 2018, Dilmah Tea with its partners signed their own pledge to avoid single-use plastic, to reduce, reuse and recycle plastic, and to commit to keeping our ecosystems protected

Similarly, Dilmah is committed to backing Initiatives with the philosophy of supporting the local community as well as striving to conserve Sri Lanka's essential ecosystems, the Beach Caretaker Program, initiated by MEPA is a great example of this. Dilmah partnered on the project and is responsible for protecting 23 km of coastline belonging to five districts in Sri Lanka. The program allows community members to take ownership of their beaches and pass the experience and knowledge gained to the next generation. Dilmah also organized several beach cleanups in 2019 which occurred all around the island in Angulana, Modara, and Batticaloa, respectively, and a total of around 440 participants gathered to collect over 1383 kg of waste.

Further, as a corporate entity that has always believed in research and evidence-based conservation, Dilmah will be using a non-disruptive business model to restore the degraded mangrove forests and shallow ecosystems in Kalpitiya while elevating the life standards of the local community.

Dilmah Conservation is committed to the preservation of the coastal and marine environment and believes long-term private public partnership is a good way of achieving impactful conservation outcomes in Sri Lanka. This also aligns with the United Nations 17th Sustainable Development Goal (SDG) of strengthening the means of implementation and forming strong partnerships with public, private, local and federal bodies to achieve the goals for sustainable development.
Disclaimer Notice
These images are copyright protected and can only be used for Dilmah articles with due credit given.