Press release and images on Dilmah's 44th School of Tea turns a new leaf for hospitality professionals in Europe from Dilmah
Menu
Dilmah Food Service
Integrity & Ethics
Dilmah Tea Inspired
Leisure and Hospitality
Knowledge & Training
Online Shop
Dilmah's 44th School of Tea turns a new leaf for hospitality professionals in Europe
Dilmah School of Tea, Rotterdam, The Netherlands 2016.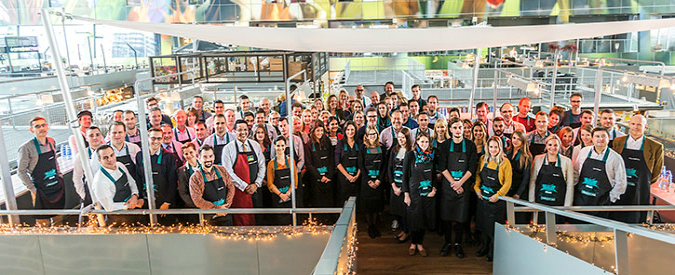 Years of rich, immersive knowledge in the finest tea has been shared with hoteliers, chefs and mixologists around the world. Continuing the Tea Inspired streak of success and passion was Dilmah's recently concluded 44th School of Tea, which happened on 24th October 2016. The reputed school which was set up for a day at Markthal Rotterdam, Netherlands featured the first tasting of the most rarest and exclusive of all teas, the Uva Seasonal Flush of 2016, by over 75 hospitality professionals who attended. Among the many experts and trainers who took charge of key areas at the school were Dilhan C. Fernando- Director of the School of Tea and elder son of Dilmah Founder Merrill J. Fernando, Betty Koster- Cheese and Tea Pairing Professional, Robert Schinkel- Award Winning Mixologist, and Professor Bob Grimble- Emeritus Professor at Southampton University.

The school opened with the introduction to Dilmah and the History of Tea, followed by Why Ceylon Tea is Different with a tasting of the Watta teas, Discovering Taste with a tasting of four designer gourmet teas and one infusion, all presented by Dilhan C. Fernando. Next was the highly anticipated first tasting of a tea produced by a phenomenon of nature, the Uva Seasonal Flush of 2016. Other areas covered were How to Brew the Perfect Cup of Tea with a hands-on exercise; an in-depth practical exercise of Pairing Tea with Food of 10 varieties; a lesson on Health Benefits of Tea in Relevance to a Modern Lifestyle presented by Professor Bob Grimble; an immersive experience of Tea and Cheese pairing presented by Betty Koster; an exam to test what the participants have learned so far; the revolution of "Tea Inspired" with a live tasting on what Tea Gastronomy is all about; training on Tea Mixology and Making Chai with Robert Schinkel followed by a practical exercise on making iced tea and a group challenge on making an original tea inspired drink.

The 44th School of Tea concluded with the participants' exam results and announcement of the winning group in the tea inspired challenge and presentation of certificates. Dilmah's School of Tea, which has received accreditation by the World Association of Chefs' Societies (WACS) as a training school for tea, has an international presence in many countries including France, Australia, China, Brazil, Japan, New Zealand and 11 others. Over 75 tea revolutionaries walked away from Rotterdam, joining the 2970 participants from all over the world who have passed through this enlighteningly rich course on tea, accumulating knowledge and, in turn, inspiring passion.
Disclaimer Notice
These images are copyright protected and can only be used for Dilmah articles with due credit given.