Press release and images on Dilmah Partners with Asian Culinary Institute Singapore from Dilmah
Menu
Dilmah Food Service
Integrity & Ethics
Dilmah Tea Inspired
Leisure and Hospitality
Knowledge & Training
Online Shop
Dilmah Partners with Asian Culinary Institute Singapore
Dilmah Partners with Asian Culinary Institute Singapore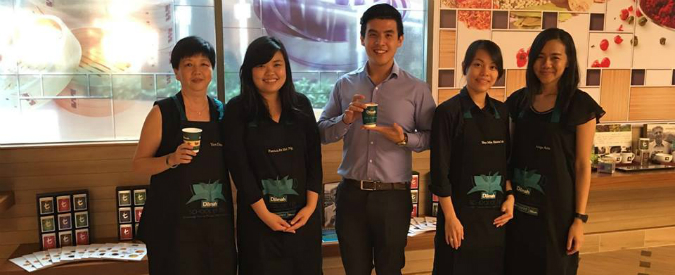 Dilmah partnered with the Asian Culinary Institute in Singapore as the key tea sponsor of their official opening on the 15th of June 2016. Asian Culinary Institute (ACI) of Singapore is a joint collaboration between Singapore Workforce Development Agency (WDA) and Nanyang Polytechnic (NYP). They are appointed by (WDA) to be the Anchor Provider for the Food & Beverage Services industry. The institute provides a series of courses and training programs to develop world class culinary professionals in Singapore. Dilmah created a tea experience for more than 100 culinary professionals who graced this occasion with their presence.

Among the many dignitaries were; His Excellency Mr. Kenji Shinoda - Ambassador of Japan in Singapore, Mr. Ng Cher Pong - Chief Executive of WDA, Ms. Jeanni Liew - Principal & CEO of Nanyang Polytechnic Mr. C Sankaranathan - President of the Indian Restaurant Association of Singapore, Mr. Tan Jek Min - Director of ACI, Dr. Gog Soon Joo - Group Director Training Partners Group WDA, Mr. Daniel Ang - President of the Association of Catering Professionals Singapore & CEO of Elsie's Kitchen, Mr. Tan Hock Soon - General Secretary of Food Drinks and Allied Workers Union and Mr. Shanmugam Ganesan - Advisor of the Indian Restaurant Association of Singapore.

ACI has dedicated a location for Dilmah where the shelves will display different ranges of Dilmah Tea, Publications regarding Ceylon tea and artifacts such as tea pots to represent various cultures which appreciate tea. This will be a perfect platform to share the Ceylonese heritage of Dilmah teas with key F&B professionals in the industry. We hope to continue this partnership with them to inculcate the remarkable story of Ceylon tea into the hearts of future culinary professionals.

ACI in a bid to recruit new entrants into the F&B industry, announced the signing of 11 MOUs with Hospitality organisations like Pan Pacific Hotel, The South Beach Hotel, Singapore Marriot Tang Plaza Hotel, Select Group, Jumbo Group, Neo Group, Soup Restaurant Private Limited, Pines Food Delight and Kay Lee Pte Ltd, Sakae Holdings Ltd and Riverwalk Tandoor. Further ACI has also included a long-term commitment spanning 5 years, in the sponsorship of training programmes for new entrants and existing workers as well as chefs' culinary demonstrations to help generate publicity and awareness on Asian cuisine.
Disclaimer Notice
These images are copyright protected and can only be used for Dilmah articles with due credit given.