Press release and images on Dilmah Mauritius attends Hospitality Golf plus Tournament and Hotel World Expo from Dilmah
Menu
Dilmah Food Service
Integrity & Ethics
Dilmah Tea Inspired
Leisure and Hospitality
Knowledge & Training
Online Shop
Dilmah Mauritius attends Hospitality Golf plus Tournament and Hotel World Expo
Dilmah Mauritius attends Hospitality Golf plus Tournament and Hotel World Expo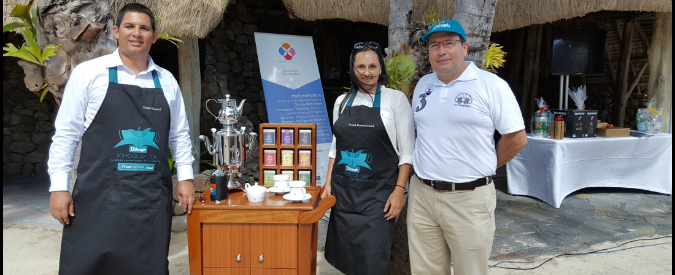 Dilmah's business partner in Mauritius who is constantly finding new ways to capture the target markets, participated in two significant events recently, in a bid to reach out to the potential customers.

Dilmah Mauritius recently participated in the Hospitality Golf Plus Tournament - an annual event organised by Hospitality Plus Ltd., to showcase its products and services to the hospitality sector. The event held at Paradis Hotel & Golf Club, Mauritius, attended by the hospitality professionals, mainly from five star establishments, was a chance to tap potential customers and establish contacts with them.

Dilmah Mauritius also had the opportunity to showcase different products and services in the areas of in-room, restaurant, bar, breakfast, sampling etc during the Hotel World Expo held in Swami Vivekananda International Convention Centre, Mauritius. Dilmah's presence at the Hotel World Expo event gave much exposure to the brand as the event was attended by professional of the HORECA industry from top management to chefs, barmen, sommeliers, restaurant owners etc.

We appreciate the efforts by Dilmah Mauritius for taking the lead in finding innovative means and ways of nurturing ties between the brand and its customers.
Disclaimer Notice
These images are copyright protected and can only be used for Dilmah articles with due credit given.