Press release and images on Dilmah introduces School Of Tea course in Singapore from Dilmah
Menu
Dilmah Food Service
Integrity & Ethics
Dilmah Tea Inspired
Leisure and Hospitality
Knowledge & Training
Online Shop
Dilmah introduces School Of Tea course in Singapore
Led by Dilhan Fernando, director of Dilmah, Edwin Soon, Singapore enologist, and Tess bar chef and mixologist duo Martin Wong and Zack Lee, participants acquired artisanal tea knowledge and enjoyed a luxurious 21st century high-tea experience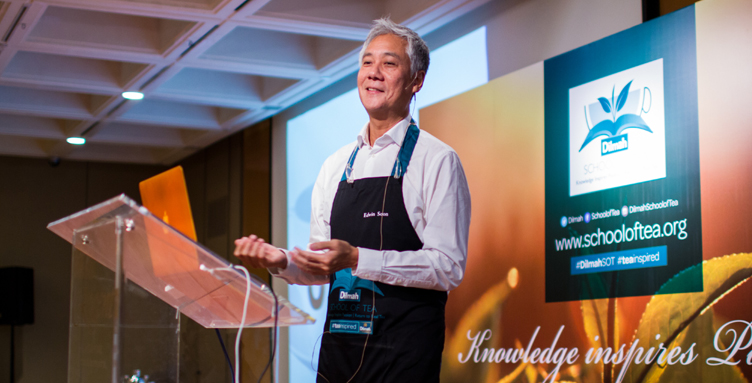 SINGAPORE, 8 December 2015- World-renowned tea brand, Dilmah Tea has brought its 37th School of Tea course to Singapore's shores for the first time, on 30 November 2015. The in-country one day session was created to accommodate more food and beverage, and hospitality industry partners who may not be able to experience the full six day advanced course at the Dilmah plantations in Sri Lanka.
More than 150 attendees participated in the five hour session at The Regent hotel. Participants acquired deep knowledge on the crucial aspects of tea appreciation from food pairing, sensory evaluation, tea mixology, techniques of tea brewing and theory modules on the manufacturing processes and the cultivation of tea. Led by Dilhan Fernando, Director of Dilmah, as well as Edwin Soon, author of the Dilmah Way of Tea and a part of the Dilmah School of Tea, guests were treated to a comprehensive tea brewing training session, followed with a sensationally curated ten-course food and tea pairing session.
In addition, local chef and mixologist duo Martin Wong and Zack Lee from Tess Bar made a special appearance where they showcased their award-winning tea cocktail mixture. Tess Bar represented Singapore at the Dilmah Global Real High Tea Challenge earlier this year and received great recognition for their innovative sensorial food and tea pairings.
The next Dilmah School of Tea course will be held in Singapore November 2016. More information on Dilmah's School of Tea can be found at
www.schooloftea.org
Disclaimer Notice
These images are copyright protected and can only be used for Dilmah articles with due credit given.