Press release and images on Dilmah Founder Merrill J. Fernando honoured by grant of Fellowship of the Institute of Chartered Professional Managers of Sri Lanka (CPM Sri Lanka) from Dilmah
Menu
Dilmah Food Service
Integrity & Ethics
Dilmah Tea Inspired
Leisure and Hospitality
Knowledge & Training
Online Shop
Dilmah Founder Merrill J. Fernando honoured by grant of Fellowship of the Institute of Chartered Professional Managers of Sri Lanka (CPM Sri Lanka)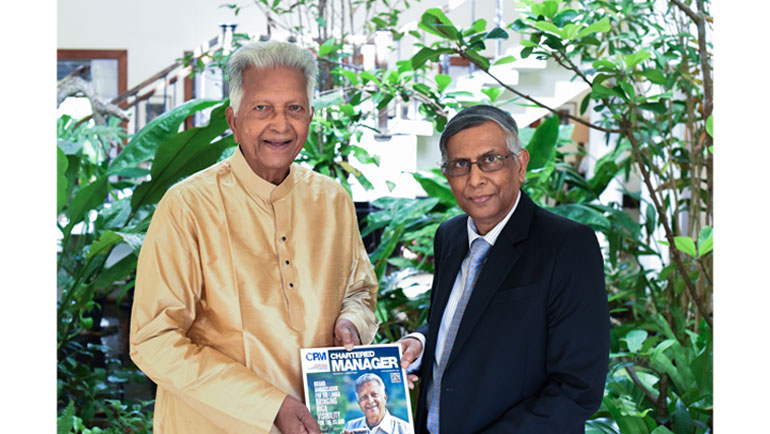 Merrill J. Fernando, Founder of Dilmah Tea was honoured by Professor Lakshman R. Watawala, Founder and President of the Institute of Chartered Professional Managers of Sri Lanka with Fellowship of the Chartered Professional Managers Institute with the designatory letters FCPM. CPM Sri Lanka is the Sri Lankan chartered professional management body celebrating its 10th anniversary and has as its objective the recognition and development of the management profession and is linked to management institutions globally. CPM also felicitated the "Teamaker" by sharing his story as a cover feature in their Chartered Manager magazine.
Presenting the Certificate of Fellow Membership of the Institute of Chartered Professional Managers of Sri Lanka (FCPM) to Merrill J. Fernando, Prof Lakshman R. Watawala, eminent Chartered and Management Accountant who is a Past President of the Institute of Chartered Accountants of Sri Lanka and founded the Association of Accounting Technicians of Sri Lanka (AAT), Institute of Certified Management Accountants of Sri Lanka (CMA) and Institute of Chartered Professional Managers Sri Lanka was joined by Governing Council Member Kosala M. Dissanayake and CPM Sri Lanka Director Dilshan Arsakularathna. Also associated at the ceremony were Malik and Dilhan Fernando the two sons of Merrill J Fernando who have now been entrusted to run the business.
Prof. Watawala stated that "it was a dual honour of granting the Chartered Fellowship in Management to recognise the outstanding contribution to the Sri Lankan Tea Industry with the Dilmah Brand and globalising Ceylon Tea to be the best in the world coupled with the philanthropic services to the less fortunate through the MJF Charitable Foundation".
In a related feature in the inaugural issue of Chartered Manager, Merrill J. Fernando's story and unique philosophy of making business a matter of human service are shared with members of the Institute. The Founder of Dilmah has been a vocal advocate of genuinely fair trade, and has lived his vision, being the first native Sri Lankan tea grower to offer his tea - grown, picked perfected and packed at source - direct to the world. He devoted his life to tea and recently celebrated 70 years in tea, now the most experienced Teamaker in the world.
At the age of 90 Merrill J. Fernando continues to defend quality and the purity of his beloved Ceylon tea. He received the CPM Sri Lanka accolade with his customary humility – "everything I have achieved is possible through divine blessings and it is God who gave me the direction to conduct my business with integrity, building on the inherent quality of Ceylon tea and sharing my success with workers in the industry and the wider community".
Presenting a copy of Chartered Manager Journal_Mr Merrill J Fernando and Prof Lakshman R Watawala
Presenting the Fellow Membership Certificate_L to R Dilhan C Fernando Malik J Fernando, Merrill J Fernando, Prof Lakshman R Watawala Kosala Dissanayake and Dilshan Arsakularathna
From the press:
www.ft.lk/hr/Dilmah-Founder-Merrill-J-Fernando-honoured-by-grant-of-Fellowship-of-CPM-Sri-Lanka/47-705347
www.sundaytimes.lk/200830/business-times/dilmah-founder-merrill-j-fernando-receives-fellowship-of-institute-of-chartered-professional-managers-of-sri-lanka-414473.html
Disclaimer Notice
These images are copyright protected and can only be used for Dilmah articles with due credit given.