Press release and images on Dilmah Conservation to host traditional Varigasabha of the indigenous Veddah Community in Sri Lanka from Dilmah
Menu
Dilmah Food Service
Integrity & Ethics
Dilmah Tea Inspired
Leisure and Hospitality
Knowledge & Training
Online Shop
Dilmah Conservation to host traditional Varigasabha of the indigenous Veddah Community in Sri Lanka
Dilmah Conservation to host traditional Varigasabha of the indigenous Veddah Community in Sri Lanka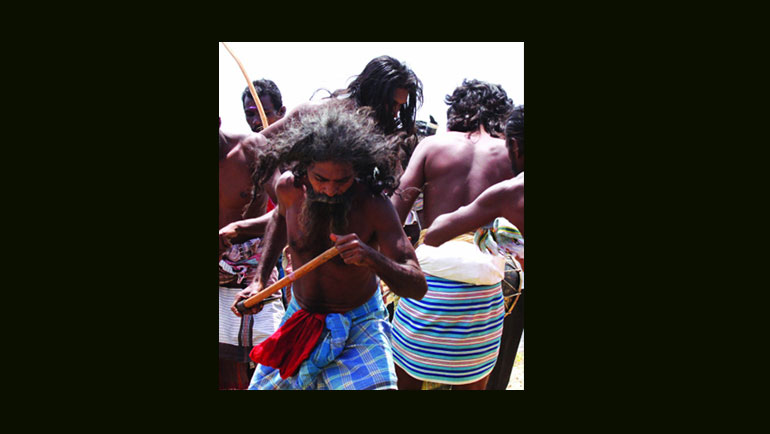 In an effort to further support and empower the Indigenous Veddah community of Sri Lanka, towards preserving their historic identity, Dilmah Conservation will be hosting their Virigasabha Convention - a traditional communal gathering of immense cultural value- this year. The event is to be held on 8th and 9th August 2014 in Dambana, in the East of Sri Lanka, and will also mark World Indigenous Peoples' Day 2014 (9th of August).
Identified as the original inhabitants of Sri Lanka with a history spanning many thousand years, the Veddah continue to live in relative isolation in their forest dwellings in some of Sri Lanka's most remote areas.
Their lives and livelihoods are primarily dependent and intricately intertwined with nature.
The relative isolation from the mainstream community has helped preserve their unique identity. However in the recent past, changing times and resultant economic development have influenced and affected the continuation of the traditional lives of this indigenous community.
Today's remaining Veddahs claim to be as old as 37,000 years. However, of the 17 clans that are once said to have existed, only four remain at present.
In 2011, Dilmah Conservation hosted the first traditional Veddah communal gathering or Varigasabha, under the auspices of Veddah Chief Uru Warige Vannialaeththo.
The Varigasabha traditionally brings together the Veddah community from all over Sri Lanka to discuss their issues and find solutions to the problems the community faces. Speaking at the first Varigasabha, Veddah Chief Veddah Chief Vishva Keerthi Sri Vanaspathinda Uru Varige Vannilaeththo said, "I am happy that we were able to have the Varigasabha for the first time in the East. We were talking about this for a long time but it was Dilmah Conservation that helped us organise this event and we are very grateful to them."
In 2013, Dilmah Conservation through its Culture and Indigenous Communities Programme established a Handicraft and Pottery Centre for Sri Lanka's Veddah community at their Community Heritage Centre in Dambana, in Sri Lanka's Uva Province. This initiative is aimed at empowering the Veddah community and to support them with their traditional livelihoods in a dignified manner. Additionally, Dilmah Conservation produced a publication documenting the lives and livelihoods of the 'Sea Veddah' titled 'Indigenous Communities in Sri Lanka: The Veddah'.
The publication chronicles, in detail, the lives of the Coastal Veddahs of the country. Dilmah Conservation also undertook a socio-economic assessment of the Coastal Veddah communities in the Batticaloa and Trincomalee Districts of Sri Lanka.
This indigenous group was subject to grave difficulties as a consequence of the conflict and our efforts were aimed at extending support to them for sustainable livelihood initiatives. In addition to this, Dilmah Conservation has also engaged in supporting and documenting the Coastal Veddah community's traditional Sadangu celebrations.
Disclaimer Notice
These images are copyright protected and can only be used for Dilmah articles with due credit given.