Press release and images on Dilmah Conservation supports the Veddah Community host its traditional Varigasabha from Dilmah
Menu
Dilmah Food Service
Integrity & Ethics
Dilmah Tea Inspired
Leisure and Hospitality
Knowledge & Training
Online Shop
Dilmah Conservation supports the Veddah Community host its traditional Varigasabha
Dilmah Conservation supports the Veddah Community host its traditional Varigasabha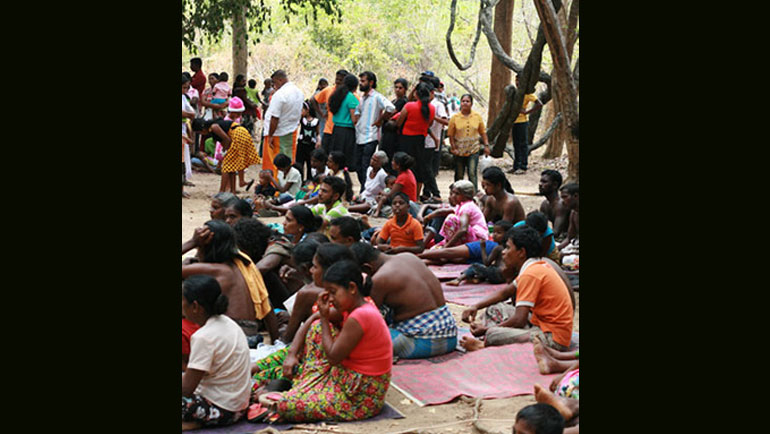 Through its Veddah Community Upliftment initiative, Dilmah Conservation has extended its support towards empowering members of this community in the Uva and Eastern Provinces of Sri Lanka since 2011. Dilmah Conservation was privileged to assist the Veddah Community host its Varigasabha or traditional clan congregation in their native locality of Dambana, Mahiyanganaya on Friday, 8th August 2014.
The event saw to the gathering of Veddah Communities from Dambana, Pollebadda, Rathugala, Dalukana and Vakarai to discuss salient issues. Furthermore, representatives of the community also hosted a special cultural programme to mark World Indigenous Day on Saturday the 9th of August towards promoting greater awareness on the rich cultural inheritance of the Veddah. This included the presentation of the Kirikoraha Ceremony; a traditional shanthikarma to invoke the blessing of the matriarchal deity Kiri Amma and other performances of indigenous song, dance and music.
Veddah Chief Vishvakeerthi Sri Vanaspathi Uru Varige Vannilaeththo stated during the course of the proceedings: 'At this year's Varigasabha, we the chieftains and senior representatives of our community have mutually agreed that certain cultural aspects of our heritage, like our language, our way of life and our history must be protected and conserved. We also want to work towards further strengthening the unity of our clan scattered across Sri Lanka.'
Dilmah Conservation is honoured to have been a part of the Veddah community's traditional Varigasabha, and will continue to support the community preserve their distinctive traditional inheritance.
Disclaimer Notice
These images are copyright protected and can only be used for Dilmah articles with due credit given.