Press release and images on Dilmah Conservation launches their latest publication 'Hela Batha Asiriya' (The Great Sri Lankan Agricultural Tradition) from Dilmah
Menu
Dilmah Food Service
Integrity & Ethics
Dilmah Tea Inspired
Leisure and Hospitality
Knowledge & Training
Online Shop
Dilmah Conservation launches their latest publication 'Hela Batha Asiriya' (The Great Sri Lankan Agricultural Tradition)
'Hela Batha Asiriya' presented to His Excellency, President Maithripala Sirisena, at the inauguration of the One Earth Urban Arboretum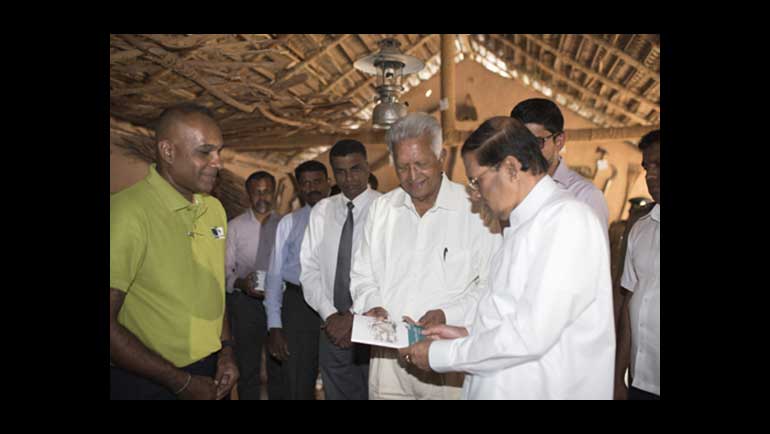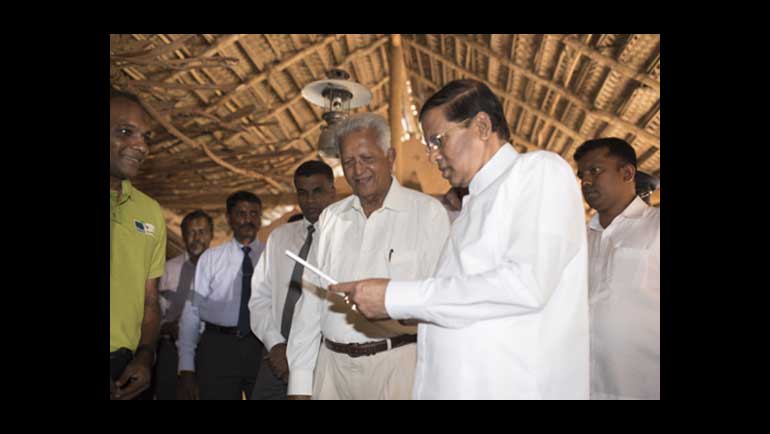 'Hela Batha Asiriya' (The Great Sri Lankan Agricultural Tradition), authored by Mahinda Kumara Dalupotha, is the latest addition to Dilmah Conservation's publication series - aimed at promoting accessible environmental education and covering topics ranging from biodiversity conservation to Sri Lanka's cultural heritage. The publication was launched on the 7th of February 2017, together with the inauguration of Dilmah Conservation's One Earth Urban Arboretum by His Excellency, President Maithripala Sirisena at the MJF Centre in Moratuwa, Sri Lanka. The publication details the many unique aspects of Sri Lanka's rich agricultural history - practiced more than 2500 years ago - and seeks to inform Sri Lankans of the sustainable and organic agricultural methods practiced in the immediate past and by their ancestors.
'Hela Batha Asiriya' focuses exclusively on Sri Lankan agriculture such as the cultivation of paddy, which for centuries was more than just merely a source of income but in fact a way of life that defined the society, culture and religion of Sri Lanka. The publication delves into an era - seemingly forgotten with the mordenisation of Sri Lanka, boasting a wide range of information on the topic such as the unique tools used in ploughing the fields, the methods used in storing paddy and chena cultivation - regarded as the oldest form of cultivation in Sri Lanka (extending as far back as 5000 years) which was respectful of the environment in which it was practiced. A majority of the tools described in the publictaion can be found on display at Dilmah Conservation's Resource Center situated at the entrance to the One Earth Urban Arboretum, which houses an extensive collection of the agricultural and household tools used by traditional farmers of both the near past and ancient Sri Lanka, some of which are still in use today.
With this latest publication, Dilmah Conservation hopes to encourage the adoption of these 'sustainable' practices into the agricultural industry today and to demonstrate the ability to survive and thrive harmoniously alongside nature. Dilmah Founder, Merrill J. Fernando, also expressed that with this publication he hopes to enlighten Sri Lankans, primarily the younger generations, of their unique agricultutal heritage which was successfully able to demonstrate the interconnectedness of nature and human life.
"The Importance of the Vee Bissa - At present, farmers are faced with many problems concerning the storage of paddy. These problems however were never encountered by ancient and traditional farmers as the Vee Bissa allowed them to store paddy for extended periods of time without it getting spoilt. There is no equipment or technology today that can match up to the Vee Bissa in terms of being able to preserve the germination power of paddy. Today's farmers use storage compartments made of cement when storing paddy, however it is doubtful if they are capable of protecting the germination power as efficiently as a Vee Bissa. " - an extract from the publication.
'Hela Batha Asiriya' is now available for purchase at the Swashakthi Tea Room and Bakery at the MJF Centre in Moratuwa, Sri Lanka.
Dilmah Conservation was established in 2007 as an affirmation of Dilmah Tea's commitment to environmental sustainability, ensuring that all its operations are bound by a respectful and sustainable interaction with the environment. Since its inception, Dilmah Conservation has worked on numerous initiatives successfully combining environmental conservation with livelihood development. Categorized into four focal areas which are sustainability, biodiversity, heritage and communications, these initiatives include the creation of reconciliation programmes by using nature as a catalyst, introduction to sustainable initiatives in the spheres of agriculture and the implementation of programmes on the protection of species habitat and biodiversity through public service announcements and other media.
Disclaimer Notice
These images are copyright protected and can only be used for Dilmah articles with due credit given.