Press release and images on Dilmah Conservation Launches 'Sri Lankawe Sulabha Wanathuru' from Dilmah
Menu
Dilmah Food Service
Integrity & Ethics
Dilmah Tea Inspired
Leisure and Hospitality
Knowledge & Training
Online Shop
Dilmah Conservation Launches 'Sri Lankawe Sulabha Wanathuru'
A Field Guide of Sri Lanka's Common Forest Trees in Sinhalese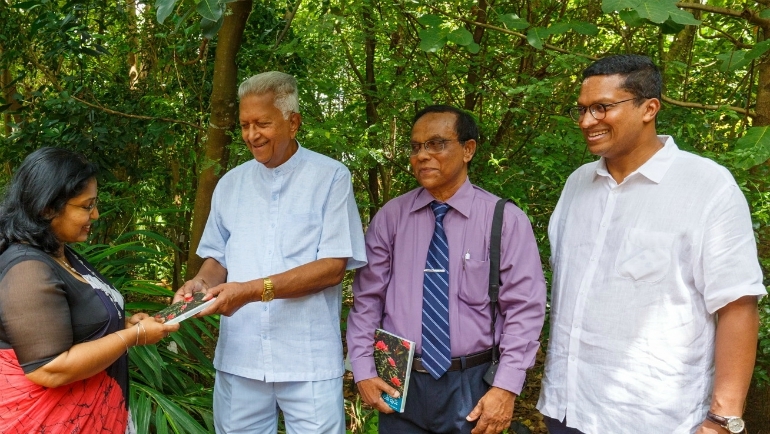 Due to the popularity of the original book in English 'Common Forest Trees in Sri Lanka' Dilmah Conservation initiated a translation in Sinhalese and launched 'Sri Lankawe Sulabha Wanathuru' on the 1st of October at the One Earth Arboretum in Dilmah Conservation's One Earth Centre in Moratuwa.
The publication comprises of valuable information on Sri Lanka's forests and a detailed description of more than 100 of their constituent trees, ranging from dry zone forests to wet lowland forests, to montane forests. It also includes fascinating facts such as trees of historical and religious significance of Sri Lanka.
The original publication was authored by Prof. Sudheera M.W Ranwala, Dr. A.H Magdon Jayasuriya and I.A.D Nadeesha Dilrukshi, and the layout was designed by Kasun Pradeepa Benaragama. The publication was translated to Sinhalese by K.L Jayatissa together with Prof. Sudheera M.W Ranwala.
This translated publication is an effort by Dilmah Conservation to educate and inspire a new generation of conservationists and environmentalists to understand and re-ignite a love and respect towards nature, that has slowly been lost with the emergence of technology. Further, Dilmah Conservation believes that this publication will successfully convey to society; primarily to the younger generation; the importance of conserving our forests and trees. This will be actioned out in collaboration with the Ministry of Education's National Libraries Programme to equip schools around the island with this new field guide and other key publications published by Dilmah Conservation.
The publication, having less scientific and technical wording, is perfectly suited for anyone with a genuine curiosity and interest in nature, irrespective of whether they have the scientific background to further raise awareness on the importance of nature.
Dilmah is committed to the conservation of biodiversity and the need to live more consciously, and these being core objectives of the company's business model, the publication enables an easy access education of these core objectives to the general public and a wider audience than the original publication.
'Sri Lankawe Sulabha Wanathuru' is Dilmah Conservation's 15th publication and the latest addition to Dilmah Conservation range of field guides, which includes 'Fascinating Lichens of Sri Lanka', 'Recognizing Deadly Venomous Snakes From Harmless Snakes of Sri Lanka', 'Common Butterflies of Sri Lanka', 'Common Forest Trees of Sri Lanka', 'A Field Guide to Dragonflies and Damselflies of Sri Lanka', 'Guide to Eco-Friendly Home Gardening', 'Field Guide to Uda Walawe National Park' and 'A Field Guides to Bats of Sri Lanka'. Dilmah Conservation also initiated a series of publications to preserve Sri Lanka's cultural heritage including 'The Hela Weda Ath Potha', 'Hela Batha Asiriy'a and pictorial publications on Sri Lanka's traditional communities, 'The Veddahs' and 'The Ahikuntaka'.
All these publications, including 'Sri Lankawe Sulabha Wanathuru' are available for sale at Dilmah t-Lounges, Brew 1867 by Dilmah and at the Swashakthi Bakery in Moratuwa. They are also available online (with island-wide delivery) at
Dilmah Conservation
Disclaimer Notice
These images are copyright protected and can only be used for Dilmah articles with due credit given.