Press release and images on Dilmah Conservation Launches First "Learn Your Butterflies in a Day" Workshop Series from Dilmah
Menu
Dilmah Food Service
Integrity & Ethics
Dilmah Tea Inspired
Leisure and Hospitality
Knowledge & Training
Online Shop
Dilmah Conservation Launches First "Learn Your Butterflies in a Day" Workshop Series
Dilmah Conservation Launches First "Learn Your Butterflies in a Day" Workshop Series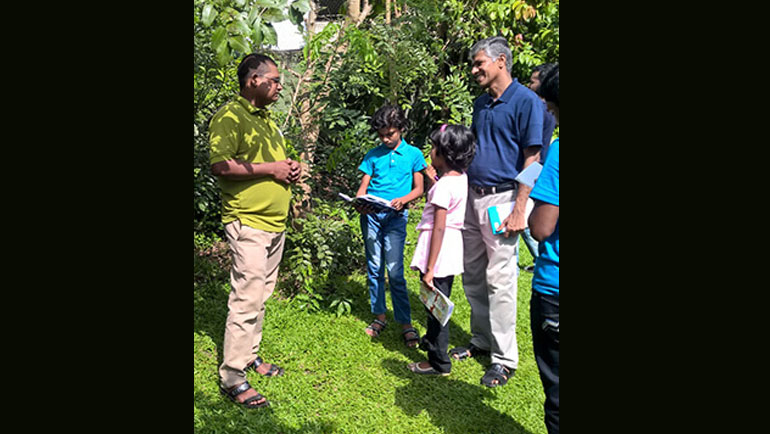 Dilmah Conservation held its first "Learn Your Butterflies in a Day" workshop in September at the Dilmah Conservation Sustainable Agriculture Research Centre (DCSARC) in the town of Moratuwa on the outskirts of Colombo.
The free training workshop was conducted by the author of "Common Butterflies of Sri Lanka" Himesh Jayasinghe, and created awareness of how important butterflies are to our environment.
The awareness programme, with 16 participants, began with a lecture on field ethics that should be practiced when observing butterflies in nature and tips on taking field notes to help identify unknown species of butterfly. The concepts were then put to practice by a field session in DC's butterfly garden, situated within the facility.
Perhaps the highlight of the workshop was when participants learned, in a step-by-step manner, how to create their own butterfly gardens. This also included an in-depth understanding of the behaviour and requirements of butterflies throughout their life cycle.
Mr. Jayasinghe also explained to the participants the different butterfly-friendly plants that should be included in the gardens. Butterflies are extremely picky when it comes to where they lay their eggs. Certain species of butterfly will only lay eggs on a specific host plant. So the choice of plants is a significant decision in designing a butterfly garden.
Dilmah Conservation's butterfly garden project was initiated in 2011 because of the need to preserve these organisms that are crucial for the environment. They provide food for birds, reptiles and mammals while also playing an important role in the pollination of plants.
DC plans to continue this series of workshops with two more sessions planned for this year in November and December. They are free and open to the public, young and old alike. To register, send an email to info@dilmahconservation.org.
Disclaimer Notice
These images are copyright protected and can only be used for Dilmah articles with due credit given.