Press release and images on Dilmah Conservation Celebrates World Water Day with the Nature Club of Visakha Vidyalaya from Dilmah
Menu
Dilmah Food Service
Integrity & Ethics
Dilmah Tea Inspired
Leisure and Hospitality
Knowledge & Training
Online Shop
Dilmah Conservation Celebrates World Water Day with the Nature Club of Visakha Vidyalaya
Dilmah Conservation Celebrates World Water Day with the Nature Club of Visakha Vidyalaya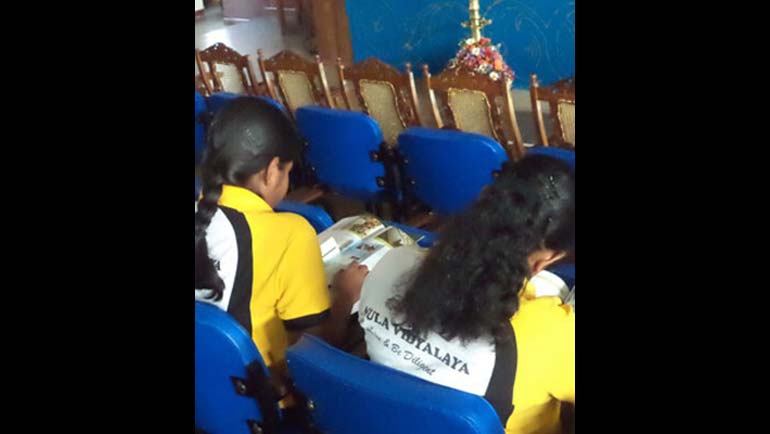 As declared by the United Nations General Assembly, World Water Day is celebrated on the 22nd of March each year in order to raise awareness on the importance of conserving water resources as a global priority.
The Nature Club of Visakha Vidyalaya, Colombo organised a special environmental programme titled Apprendre on the 8th of March 2014 with the participation of several schools from across the island. Apprendre aimed to raise awareness on the relevance of managing water for sustainable living and the socio-economic wellbeing of communities.
The programme was presided over by Chief Guest Professor Sarath Kotagama of the University of Colombo's Department of Zoology, who provided the audience with an insightful overview of the state of water resources in Sri Lanka, drawing on his noteworthy experience in the field. A quiz competition was also held as a part of this event to test the knowledge of the participating students, along with environment-oriented presentations and other recreational activities.
As a part of its aim to promote environmental and nature education and make available accessible resource materials, Dilmah Conservation provided all participants with free copies of the recently launched 'Ape Jaiva Urumaya' (Our Biological Heritage) publication which provides a comprehensive overview of Sri Lanka's plant and animal diversity and intricate ecosystems. Additionally, two sets of books with a focus on Sri Lanka's natural and cultural heritage published by Dilmah Conservation including 'An introduction to Common Spiders of Sri Lanka', Recognising Deadly Venomous Snakes from Harmless Snakes of Sri Lanka, A Pictorial Guide to Uda Walawe National Park, Indigenous Communities in Sri Lanka: The Veddahs, and Traditional Communities in Sri Lanka: The Ahikuntaka were presented to the club to be gifted to the winner of the quiz competition and for reference at the Visakha Vidyalaya library. Dilmah Conservation wishes the Nature Club of Visakha Vidyalaya all the very best in their future endeavors.
Disclaimer Notice
These images are copyright protected and can only be used for Dilmah articles with due credit given.