Press release and images on Dialogues on National Climate Change Adaptation – Threats and Opportunities from Dilmah
Menu
Dilmah Food Service
Integrity & Ethics
Dilmah Tea Inspired
Leisure and Hospitality
Knowledge & Training
Online Shop
Dialogues on National Climate Change Adaptation – Threats and Opportunities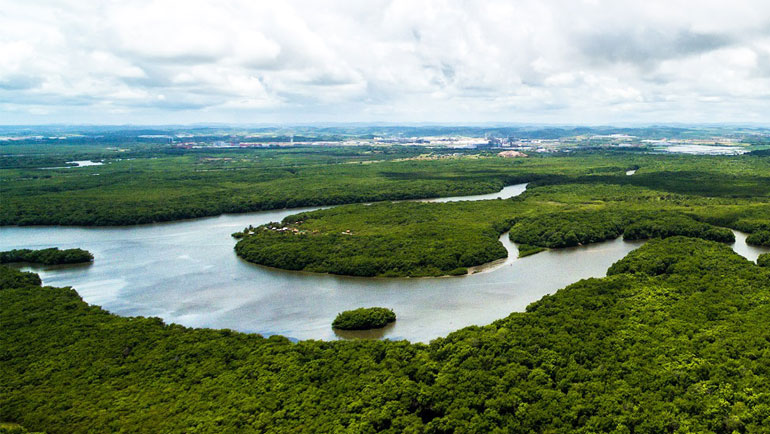 International and national experts initiated a dialogue on 'Climate Reality – Threats, Responses and Opportunities in a Changing World', in an inaugural forum initiated by Dilmah Conservation together with Global Compact Network Sri Lanka, Biodiversity Sri Lanka and Citra Innovations Lab at BMICH, Colombo. The forum brought in like-minded individuals from the government, private and academic sector for an open discussion on the alarming aspects presented by climate change and finding new solutions by merging the collective capacities of entrepreneurial and start-up networks engaged in climate change adaptation and innovation.
Dilhan C. Fernando, Chair - Global Compact Network Sri Lanka introduced the event with the words, "Human existence is intricately and irrevocably linked to our natural environment - we are all environmentalists by necessity. Our focus today is on the future because there are grounds for guarded optimism. The increase in development and adoption of sustainable technologies, of climate-smart agriculture, of knowledge of how we might adapt to the new reality in our world, has been unprecedented in the past decade. It is evident today that there is far greater potential and opportunity in climate-smart agriculture, production and lifestyles than in holding on to the past."
Dr. A. Nambi Appadurai, India Adaptation Strategy Head, World Resources Institute- India, Dr. Rohan Pethiyagoda (Conservation Scientist and Fellow at Australian Museum), Dr. B.V. R. Punyawardena (Principal Agro-climatology Scientist, Department of Agriculture - Peradeniya) and Dr. Sunimal Jayathunga (Director, Climate Change Division- Climate Change Secretariat), the key speakers of the event along with panelists, Anura Sathurusinghe (Conservator General - Forest Department) and Dilhan C. Fernando (Chair - Global Compact Network Sri Lanka)revealed some telling facts on climate change – the visible threats, impacts, opportunities and the economic potential available for private sector in active engagement in climate response.
Climate Change and Diversity of Life
Comparing the atmospheric carbon dioxide level to 'the pulse of planet', Dr. Rohan Pethiyagoda pointed at the catastrophic impact it could have on marine and terrestrial ecosystems - ocean acidification, disrupted food chains, canopy diebacks, species displacement and migration is predicted to increase at the current rate of rise in greenhouse gases and global warming.
Identifying the ability of trees in arresting atmospheric carbon dioxide he said, "Forest restoration is central to climate resilience. Long term restoration projects are needed to re-establish native plant species as they can take generations to grow"
Perspectives for the Agricultural Sector
"Computer simulations predict an increase in temperature by over three degrees centigrade in the Central Highlands and the Northern province at the turn of the century," said Dr. B.V. R. Punyawardena, citing evidence on existing climate projections. Although the annual rainfalls remain unaffected, the change in rainfall pattern combined with the night-time increase in temperature can negatively impact the agricultural sector, resulting in reduced yields and food shortage.
Dr. Appadurai mentioned that providing financial assistance to tea growers, a sector which is of tremendous socio-economic importance for Sri Lanka, offers a greater potential to increase the rate of adoption of good climate resilient practices which could consequently minimize the adverse effects of climate change on the tea industry.
Economic Projections for Sri Lanka
Sri Lanka's estimated climate-smart investment potential in key sectors is more than billion between 2018 to 2030. Dr. A. N. Appadurai, India Adaptation Strategy Head from World Resources Institute, in his keynote address, mentioned that Sri Lanka could lose up to 1.2 percent of annual GDP growth per year by 2050 because of climate change if appropriate interventions and investments are not made. The private sector thus has an important role in meeting the investment needs in key areas such as urban development, industrial parks, PPPs (public-private partnerships) and in large-scale project implementation, such as waste management, agriculture.
Dr. Pethiyagoda emphasized on the exigency for the corporate sector to look beyond immediate profits and deliverables; instead, they should ensure that business interests are aligned more towards the demands of the future, both economically and environmentally. He also mentioned the need for businesses to readily adapt to new-emerging technologies.
Prospects for the Future
As consumers are becoming more environmentally responsible and conscious, there is a tremendous opportunity for sustainable businesses to grow. Climate Entrepreneurs Forum – a spinoff materialized from the event looks towards a collaboration between young innovators and private sector companies that would facilitate climate responsive initiatives that align with national climate adaptation strategies. Financial and technical support from the private sector is a key determinant in developing climate smart initiatives that offer both, simpleand practical solutions. The event which was hosted by Biodiversity Sri Lanka and Citra innovation Lab along with Dilmah Conservation will continue towards more advanced discussions aimed at sharing innovative ideas on responses to climate change, and upscaling them for designing more concrete outputs.
Ocean acidification resulting from high levels of carb on dioxide in the atmosphere will result in a mass extinction comparable to the Permian - Triassic extinction that took place 250 million years ago. During this extinction, 90% of ocean species went extinct. A similar level of extinction is expected to occur in the oceans due to global warming today, destroying the bottom of the food chain with catastrophic rippling effects worldwide.
- Dr. Rohan Pethiyagoda
Farmers across the globe are experiencing more droughts, floods, and heat waves because of climate change. This added unpredictability has contributed to food insecurity, damaged supply chains, exacerbated debt and made nations more vulnerable to poverty in all its forms.
Although the annual rainfall amount will not change considerably, the rainfall patterns will. The wet zone is predicted to become a wetter and the dry zone might become drier. This will result in severe negative impacts on agriculture and drinking water shortages.
- Dr. B.V. R. Punyawarden
Restoring Sri Lanka's iconic ancient cascade system will be one of the best ways to address climate change in the dry zone: Sri Lanka has more than 42,000 ancient tanks that can be restored and used in climate change adaptation.
- Dr. Sunimal Jayathunga
Key outcomes of the Climate Reality forum
It is important to focus on practical solutions and opportunities, rather than the threats posed by climate change.
Multi-stakeholder platforms that focus on innovative and practical adaptation options are needed to address the issues posed by climate change.
Improving data quality and access is key to climate change adaptation and mitigation
Green city planning, and renewable energy is vital for a sustainable future
Reforestation is key for climate resilience
We need to develop and embrace climate smart technologies and policies.
Restoring Sri Lanka's ancient cascade system will be one of the best ways to fight
Please click here to View the Original Article.
Disclaimer Notice
These images are copyright protected and can only be used for Dilmah articles with due credit given.