Press release and images on Countdown to the Bocuse d'Or, the World's Most Prestigious Culinary Championship from Dilmah
Menu
Dilmah Food Service
Integrity & Ethics
Dilmah Tea Inspired
Leisure and Hospitality
Knowledge & Training
Online Shop
Countdown to the Bocuse d'Or, the World's Most Prestigious Culinary Championship
Bocuse d'Or Sri Lanka powered by Dilmah Tea, takes Sri Lankan Chefs on the first step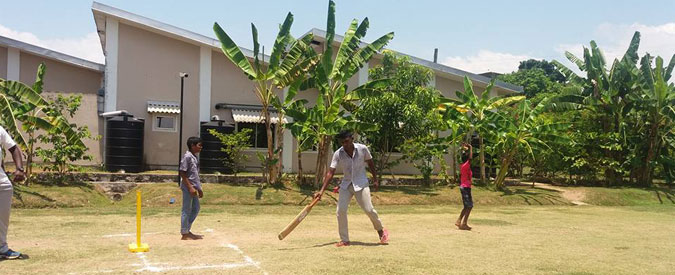 July 26, Colombo, Sri Lanka - 19 culinary teams comprising Chef and Apprentice compete in the Sri Lankan qualifier of the world's most prestigious culinary challenge. The Bocuse d'Or Culinary Challenge is being held at Colombo's BMICH Convention Centre with a star studded ensemble of judges that includes Danish Chef Jens Peter Kolbeck, recipient of the coveted Bocuse d'Argent 1993 and wine sommelier Leonardo Ricci. They join Sri Lankan judges in assessing the dishes that will be prepared by the teams within strict guidelines, including Dilmah Tea inspired sweet and savoury creations.
Dilmah Tea facilitated Sri Lanka's first participation in the Bocuse d'Or at which Hilton Colombo Chef Buddhika Samarasekera and apprentice Rashen John shone, with a Bronze Medal at Bocuse d'Or Asia. It was the first time in the history of the contest that a first time participant had won a medal. The Asian contest saw Sri Lanka securing 3rd place, after Asian Winner Singapore, Silver Medalist Japan and ahead of China, Thailand and six other Asian nations. Dilmah is again at the centre of Bocuse d'Or Sri Lanka, which will see greater emphasis on Dilmah Tea and Sri Lankan spice infused dishes. Nineteen teams representing the cream of Sri Lanka's hospitality venues will show off their culinary skills. The winner will represent Sri Lanka at the Asia final to be held in Shanghai in 2014. The Bocuse d'Or is held every two years with the next Global event happening in Lyon, France in January 2015.
Chef Jens Peter Kolbeck, who has cooked for Danish Royalty, Sommelier Leonardo Ricci are joined on the judging panel by hospitality consultant and culinary strategist Michel Saelen, Mel Nathan, Food Companion International Magazine, fashion editor Shyamalee Tudawe and Sri Lankan entrepreneur Nigel Austin.
Dilmah was amongst the first tea companies to embark on an exploration of tea in gastronomy with the Dilmah Tea Gastronomy initiative which began in 1999 and has grown into Tea Mixology, Real High Tea Challenge, the Chefs and the Teamaker and other concepts that have taken fine Ceylon Tea beyond the cup. The Hilton Team, Bronze Medallists at Bocuse d'Or Asia Challenge 2012, created history with an unique gastronomic presentation of Sri Lanka with Dilmah Nuwara Eliya Pekoe tea, Ceylon Cinnamon and Sri Lankan Cashew in their winning dish. The judges commented on the excellence of the Dilmah Nuwara Eliya Pekoe tea based sauce as being the finest in the competition. The same team presented a Slow Roasted Prosciutto Barded with Mushroom Duxelle on Dilmah Earl Grey Jus at the Sri Lankan qualifier. This year the contest requires teams to combine meat cuts with 3 garnishes. The dish should reflect Sri Lankan cuisine and use one of the Dilmah teas- Earl Grey, Nuwara Eliya Pekoe, Green Tea with Moroccan Mint or Brilliant Breakfast which have been specially selected owing to their versatility as an ingredient in tea gastronomy, as an ingredient.
Dilmah's partnership with the Bocuse d'Or Sri Lankan chapter headed by Chef Rohan Fernandopulle and the exploration of potential in tea gastronomy is especially significant given the importance of good food in a tourist's expectation of a high end destination. Whilst blessed with excellence in its natural environment, people and hospitality, the same diversity needs to extent to the food and beverage experience, to offer a complete experience for upscale holidaymakers in Sri Lanka. In addition to their association with the Bocuse d'Or Dilmah has partnered with the World Association of Chefs Societies or WACS in taking Ceylon Tea to the world. The global culinary efforts with WACS include the Global Chefs Challenge, the Global Pastry Chefs Challenge and the Hans Bueschkens Young Chefs Challenge.
Dilmah Founder Merrill J. Fernando, one of the most experienced teamakers in the world with over 63 years of experience shared his thoughts on Dilmah innovations in the hospitality industry and its exploration into tea gastronomy. He says 'Over a decade ago I mentioned that tea which is normally served in a cup will one day be served on a plate. This is taking the beverage we know as tea to greater heights'.
Known as the Pope of Cuisine, Paul Bocuse is a culinary icon and since 1987, the Bocuse d'Or contest has given young chefs a unique opportunity to demonstrate their skills, and acted as a tremendous springboard for their careers. In October 2009, the Institut Paul Bocuse in partnership with Dilmah Tea established the first international tea school in Lyon, France where students are able to follow modules on tea and its versatility in Tea Gastronomy and Mixology.
The Sri Lanka Bocuse d'Or Culinary Challenge is one of the main components of the Hotel Show 2013, conferred as South Asia's largest hospitality exhibition which will be held from July 26th- 28th in Colombo.
Disclaimer Notice
These images are copyright protected and can only be used for Dilmah articles with due credit given.