Press release and images on COOKING UP THE FUTURE! from Dilmah
Menu
Dilmah Food Service
Integrity & Ethics
Dilmah Tea Inspired
Leisure and Hospitality
Knowledge & Training
Online Shop
COOKING UP THE FUTURE!
On Tuesday, 20th October 2015, 10 bright-eyed young hopefuls walked in through the doors of the MJFCF Culinary Training Institute.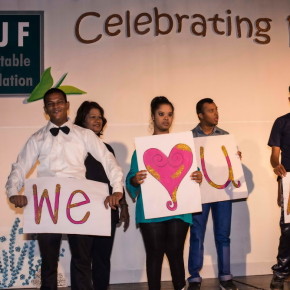 A project initiated by the MJF Charitable Foundation, this new venture aims to provide youth who do not otherwise have exposure to opportunity, with the ability to learn new skills and train in a specialised field. Equipped with the best tools and a well-planned curriculum, these youth whose survival was uncertain, now have the prospect of being a part of Sri Lanka's growing hospitality industry.
The MJFCF Culinary Training Institute enrolled its first batch of future chefs in conjunction with World Chef's Day which makes an already special event even more significant and relevant. Under the guidance of Chef Rajiv, these students will be carefully monitored and taught everything they need, to be successful in the culinary field. Presented and decked out with a brand new Dilmah apron these children are shy, yet their thirst to learn is palpable. Taking in everything with eagle-eyed concentration, it is clear they are here to change their futures as intended for them.
The culinary space in itself is equipped with all facilities required to train chefs in all areas such as hot and cold cooking and baking. The most noteworthy of all, is a dedicated station for those that maybe wheelchair bound, as everything is built with ease-of-access for them here. This move has made it clear that MJFCF Culinary Institute is a place for those from all types of backgrounds regardless of how challenging, to grab another chance at life with both hands and cements Merrill J. Fernando's philosophy that, -Business is a matter of human service.'
On speaking with two of the students, Raveena Manhoran and Jayaraj Puwanendren, it is evident that they have been in need of an education and an actual chance at progressing their lives not just for themselves, but also for the families they have to support. 20 year old Raveena is already a favourite with her bright smile and eagerness to learn. Coming from the Nawalapitiya Estate and residing at the Sarvodaya hostel, she has an affinity towards vegetarian curries, in particular beans. When asked what she would like to do once out of training, she said -I would like to work at a top hotel and join their team. I want to aim for Head Chef one day. I enjoy cooking and would like to learn more and get a good job.'
Jayaraj Puwanendren married at 21, is a young father to a three year old boy at 25 years of age. Coming from the Rilhena Estate he too resides at the same hostel as Raveena leaving behind his young family in order to present them all with a better future. -I have about 8 years of experience working in small hotels and cafes. I have to feed my family. But I would like to do more with my life and give my son a better future. So I decided to come here to learn more about cooking so I can join a hotel one day and maybe go abroad'
The Culinary Institute will be following a pre-approved curriculum and study plan in order to ensure they all received a disciplined and focused training. Through cooking within the walls of MJFCF, these students are also slowly gathering up the ingredients towards brewing a life filled with more purpose, as there will be frequent visits from culinary experts around the world such as Simon Gault and Peter Kuruvita, who will provide them with tips and tricks in the trade. This dips into Dilmah's vast pool of resources, and will provide them with exposure of such depth that cannot be obtained even through some of the highest paid courses out there.
MJFCF aims to successfully see these students through to the end of their course and then assist them with jobs where they can apply the skills and knowledge acquired during their time there. It is beyond a mere kitchen, and is in fact more a door opening out towards the future.
The MJF Charitable Foundation carries out a number of responsibilities that helps alleviate the burden off the shoulders of estate workers as well as parents who have children with disabilities. Through a number of daycare centres for children of plantation workers that have been established as well as conducting classes and treatment for children with Down Syndrome and Cerebral Palsy at the Moratuwa Centre, the Foundation assists parents in managing what is a very difficult situation whilst also guiding these children in the right direction. More information can be found on
http://www.mjffoundation.org/
Disclaimer Notice
These images are copyright protected and can only be used for Dilmah articles with due credit given.