Press release and images on Climate Education at the Dilmah Climate Change Research Station from Dilmah
Menu
Dilmah Food Service
Integrity & Ethics
Dilmah Tea Inspired
Leisure and Hospitality
Knowledge & Training
Online Shop
Climate Education at the Dilmah Climate Change Research Station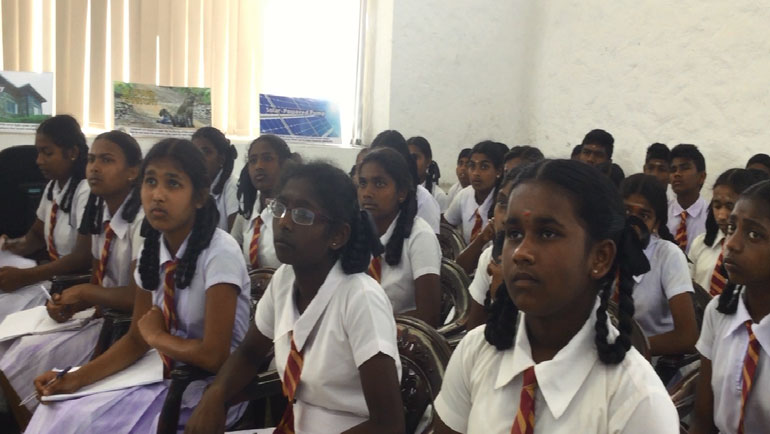 Dilmah's Climate Change Research Station in Queensberry, the first private sector initiative to research climate change and build resilience among the planter and farmer community, played host to a group of 70 school children from the Craighead Tea- Estate school for a workshop aimed at educating students about climate change. The workshop was conducted in Tamil by Mr. Vasanthakumar from the Sri Lanka Meteorological department who discussed current climatic trends and how they have impacted Sri Lanka and outlined which mitigation and adaptation measures are available to us to combat climate change. The workshop forms an integral component of Dilmah's efforts to spread climate change awareness and educate the new generation about the climate challenges that they will inherit.
In addition to explaining the basics of climate change science, which included global climatic trends and the link between global warming and the increase in the incidence of extreme weather events, the workshop educated the participants about the impact of such changes on Sri Lanka. Mr. Vasanthakumar drew on existing research and statistical data to demonstrate that Sri Lanka is experiencing an increase in the frequency of heavy rainfall and an increase in the frequency of dry periods. This is directly related to periods of flooding and dry periods throughout the year. The workshop also highlighted how water scarcity, disease and pest outbreaks and coastal erosion will be aggravated as climate change progresses. Another significant topic that was discussed was the adaptation measures that are available to Sri Lanka. These included harnessing existing reservoirs to increase buffer capacity and developing water saving practices and technology both at the domestic and farm level.
The climate system is a complex interaction between the ocean, atmosphere, land, ice and life. Addressing climate change is therefore a complex challenge that requires urgent action. Dilmah recognises that education and awareness are critical in finding solutions to climate change and that through climate education, participants will share their knowledge with their peers and family and incorporate climate smart thinking into school curricula and into their everyday lives.
The Dilmah Conservation One Earth Centre for Climate Change Research & Adaptation, which will complete one year since its establishment on 28th October, is expected to play a pivotal role in building climate resilience in agriculture and food production through research, with an emphasis on the tea sector.
Disclaimer Notice
These images are copyright protected and can only be used for Dilmah articles with due credit given.