Press release and images on Champagne amongst Teas: Cuvée Craighead Estate - Extra Fine Ceylon Silver Tips from Dilmah
Menu
Dilmah Food Service
Integrity & Ethics
Dilmah Tea Inspired
Leisure and Hospitality
Knowledge & Training
Online Shop
Champagne amongst Teas: Cuvée Craighead Estate - Extra Fine Ceylon Silver Tips
Colombo, Sri Lanka: 01st March, 2016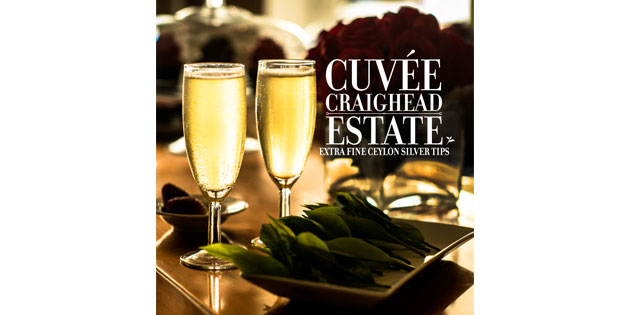 In Champagne terminology, the French term "Cuvée" refers to the first-pressed and best juice of the grape. On a quiet Sunday in February at the First Serving of Cuvée Craighead Estate at the t-Lounge by Dilmah on Colombo's Chatham Street it was not Champagne that was being presented but its equivalent in tea. Family Tea company Dilmah is known for its Founder's persistent defense of quality and tradition in tea, and the Cuvée Craighead Estate - Extra Fine Ceylon Silver Tips, only adds to the evidence in his favour.
Handpicked buds from a specific field of tea on Dilmah's Craighead Estate are handmade, gently finished under filtered sunlight and offered in an undeniably luxurious and sophisticated form. Fittingly presented in champagne flutes, chilled and lightly sparkling, the elegant and complex beverage gives new breadth to its description as tea.
The Founder's younger son Dilhan offered the tea to the assembled guests, suggesting a sip followed by a bite of a fresh Nuwara Eliya Strawberry that was presented with the tea. The first sip is delicious, the palate confirming what the eye cannot believe is tea, but the second more so. After a taste of the lightly sweet and tart strawberry a sip of Cuvée Craighead Estate reveals a complexity in the tea that yields a profusion of lychee, apple, herb and honey notes.
The Dilmah Family - Founder Merrill J. Fernando and sons, Dilhan C. Fernando and Malik J. Fernando - were joined by members of the Leaf & Artisan Society, the media and colleagues. Following Dilhan's presentation of the artisanal process by which the extraordinary tea is produced, Merrill J. Fernando shared his own devotion to tea:
'I devoted my life to tea. Dilmah has done much for the Ceylon tea industry. We have revitalized, reinvented tea and made it a global drink.  We grow our own tea, the pride of Sri Lanka. Ceylon tea is respected throughout the world, and Dilmah is enhancing that reputation through innovation. Our Cuvée Craighead Estate is an exceptional white tea, truly a champagne of tea. As it also possesses the goodness of tea, antioxidants and health benefits which champagne does not, I believe it is much better.'
Dilmah remains committed to tradition in tea making, insisting that the more modern and convenient CTC technique that most of the world has adopted for tea in teabags, is an unacceptable compromise. Merrill J. Fernando fought the extensive adoption of CTC in Sri Lanka and amongst the reasons for his unrelenting emphasis on quality, orthodox tea is the fine single estate Ceylon Silver Tips that was first served to guests on that day.
The t-Lounge by Dilmah was designed and implemented by the Dilmah Family to express the variety in tea, marrying their respect for tradition in tea with contemporary style. At the company's two Colombo locations, teas are offered hot, chilled, sparkling and in a variety of constantly evolving forms that change monthly.
The fine Silver Tips is produced on Dilmah owned Kahawatte Plantation's Craighead Estate, on an extent of 60 hectares with annual production of just 600 KG. Sri Lanka produces 5,000 - 5,500 KG of Silver Tips annually although the Fine Silver Tips from Craighead Estate is an unique tea. The estate is also responsible for the Silver Tips cultivar that was used to introduce the plant in 1958, and the fields currently used today for this purpose, were enlisted for production in 1976-1986.
About Dilmah Tea
Sri Lankan family tea company Dilmah, founded by Merrill J. Fernando, today the world's most experienced teamaker, has championed quality, authenticity and variety in tea. Dilmah pioneered the concept of Single Origin Tea in 1988 when the family company went against the industry direction to declare its commitment to authenticity and purity of origin. Garden fresh, unblended tea is a hallmark of Dilmah and offers a unique taste of unblended Ceylon tea packed at source - where it is grown.
The teas offered by Dilmah include traditional Gourmet and Premium Tea, Herbal Infusions, pure Green Tea and Fun flavoured Teas, Spiced Chais, Organic Tea, the Dilmah Exceptional range with its contemporary selection of teas, the boutique Watte and t-Series designer Gourmet Tea lines, the exclusive Teamaker's Private Reserve teas and the latest Silver Jubilee Gourmet and and Vivid tea selection.
Dilmah takes the lead in bringing innovation to a global tea category that has suffered decline as a result of commoditisation. Signature events such as the Chefs & the Teamaker and Real High Tea are innovations that seek to educate and inspire hospitality professionals to offer their guests a completely new tea experience. The events foster greater respect for this healthy, natural and versatile beverage.
The Dilmah School of Tea seeks to inspire passion in tea through knowledge of the artisanal aspects of tea amongst hospitality professionals, tea aficionados and consumers. The emphasis is on the importance of Real Tea and the versatility of this natural herb in Tea Gastronomy, food pairing and Tea Mixology. www.schooloftea.org Dilmah is Ethical Tea, honouring the pledge that Merrill J. Fernando made when first establishing his business, that business has an obligation to share its success with the community. The philosophy of making business a matter of human service uses the profits from Dilmah to fund the humanitarian work of the MJF Charitable Foundation and the environmental interventions of Dilmah Conservation.
www.dilmahtea.com
Instagram@dilmahceylontea
Instagram@dilmahfamily
Facebook#tloungebydilmah
Disclaimer Notice
These images are copyright protected and can only be used for Dilmah articles with due credit given.