Press release and images on Celebrity chef Peter Kuruvita creates a tea-inspired storm at the Dilmah t-Lounge Malaysia from Dilmah
Menu
Dilmah Food Service
Integrity & Ethics
Dilmah Tea Inspired
Leisure and Hospitality
Knowledge & Training
Online Shop
Celebrity chef Peter Kuruvita creates a tea-inspired storm at the Dilmah t-Lounge Malaysia
Celebrity chef Peter Kuruvita creates a tea-inspired storm at the Dilmah t-Lounge Malaysia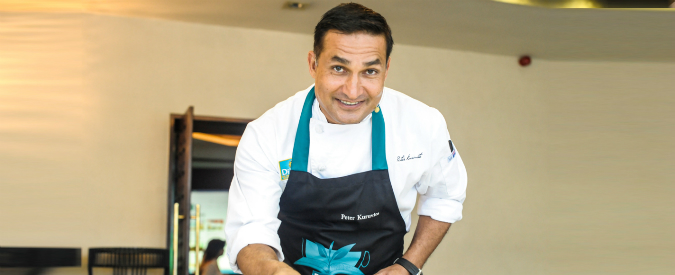 Award winning Australian chef, restaurateur, culinary author and longtime Dilmah admirer Peter Kuruvita will be introducing Malaysia to the delights of tea-inspired cuisine. The inspiring session on tea gastronomy will be held tomorrow at Dilmah's signature t-Lounge located at the IOI City Mall, Putrajaya.

Dilmah created a new trend in the global food industry with tea gastronomy which is an innovative form of tea-inspired cuisine. During the t-lounge event guests will be able to taste dishes such as Ceylon Souchong-marinated chicken and market vege wrap, Italian Almond Lamb kofta served on pita bread with salad, Earl Grey-infused chocolate truffles, doughnuts filled with Rose & French Vanilla tea custard and tea-infused marshmallows.

Peter has worked with Dilmah Tea in an ambassadorial role for many years, developing the concept of tea gastronomy and adjudging the annual worldwide event, the Real High Tea Challenge by Dilmah. The brand also supports Peter throughout his culinary adventure in Sri Lanka and utilizes his expertise in developing the concept of tea gastronomy, and in creating a trend of tea-inspired cuisine in the global food scene.

Tomorrow's event will mark the launch of the Real High Tea recipe book, an outcome of the Dilmah Real High Tea challenge.
Disclaimer Notice
These images are copyright protected and can only be used for Dilmah articles with due credit given.