Press release and images on Biodiversity Assessment of Thoppigala from Dilmah
Menu
Dilmah Food Service
Integrity & Ethics
Dilmah Tea Inspired
Leisure and Hospitality
Knowledge & Training
Online Shop
Biodiversity Assessment of Thoppigala
Biodiversity Assessment of Thoppigala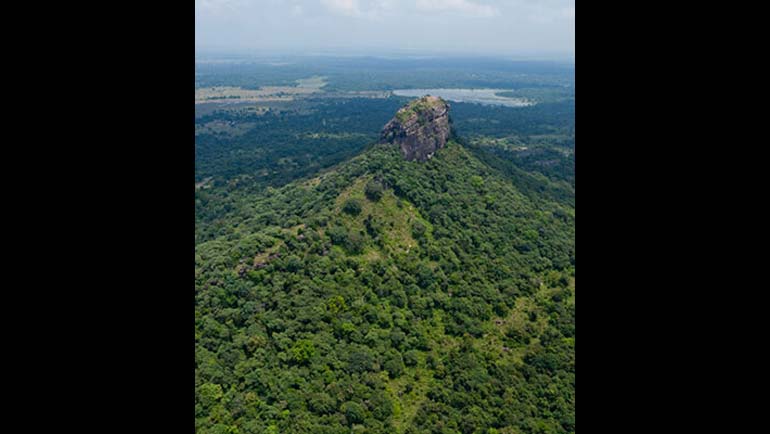 In line with its commitment to protecting Sri Lanka's biodiversity and natural heritage, Dilmah Conservation has been actively working in the area surrounding the Thoppigala Rock (also known as Baron's Cap or Kudumbimalai). While Thoppigala rose to prominence due to its strategic importance during the war, it is also of particular ecological significance due to the noteworthy composition of its resident flora and fauna.
Notable among Dilmah Conservation's initiatives is the establishment of the Thoppigala Heritage Park aimed at educating visitors on the historical, cultural and environmental importance of this area, with a special focus on conservation. Furthermore, the planting of 20,000 trees in degraded forest patches of the area is also underway.
In order to better understand the floral and faunal diversity of Thoppigala towards developing conservation-oriented initiatives, Dilmah Conservation supported the Field Ornithology Group of Sri Lanka (FOGSL) conduct a series of biodiversity surveys. This assessment was aimed at recording plant and animal species and identifying suitable locations for observation points and nature trails.
During this survey, the FOGSL team recorded a remarkable 121 species of birds. Over 90% of common dry zone birds and more uncommon species including the Scarlet Minivet (Pericrocotus flammeus), Yellow crowned pied woodpecker (Dendrocopos mahrettensis) and the Sirkeer Malkoha (Phaenicophaeus leschenaultii). Wetland birds such as the Common Grey Heron (Ardea cinera), Purple Heron (Ardea purpurea), Oriental Darter (Anhinga melangogaster) and Cormorants, along with rarer, threatened species such as the Lesser Adjutant (Lepitoptilos javanicus), Spot-billed Pelican (Pelecanus philippensis) and the Wooly-necked Stoke (Ciconia Episcopus) were also spotted in proximity to the Viranakadawala Tank in Thoppigala.
32 species of butterflies were also recorded, including the rare Common Astor (Ariadne merione) and the critically endangered White Royal (Pratapa deva). The team also noted that several species of butterflies engage in the spectacular display of 'hill-topping' when butterflies fly to and gather on hilltops to mate. Additionally, 7 species of mammals including elephants, 8 species of reptiles, 6 species of amphibians and 15 species of dragonflies and damselflies were also identified through this assessment.
It is expected that the setting up of observation points and nature trails will contribute towards further promoting the Thoppigala area's ecological importance and environmental value among visitors, and raise awareness on particular conservation issues relating to its diverse flora and fauna.
As indicated by the findings of the surveys, there is little doubt that Thoppigala would be of special interest to birdwatchers and butterfly enthusiasts, and those interested in nature at large. Aside from its rich natural diversity, several ruins of archaeological interest have also been located in this area highlighting both the park's potential to draw visitors and the need for anchoring sound measures for eco-tourism and interlinked conservation.
Presently, amenities and services available for park visitors include an information centre, the Thoppigala Memorial honouring the lives lost in the armed conflict, a campsite with adventure facilities and organised treks to climb Thoppigala Rock.
For more information contact: Army 232 Brigade Headquarters – 065 3641093 | 065 3641094
Disclaimer Notice
These images are copyright protected and can only be used for Dilmah articles with due credit given.