Press release and images on Bio Diversity in Hunuwela Estate from Dilmah
Menu
Dilmah Food Service
Integrity & Ethics
Dilmah Tea Inspired
Leisure and Hospitality
Knowledge & Training
Online Shop
Bio Diversity in Hunuwela Estate
Bio Diversity in Hunuwela Estate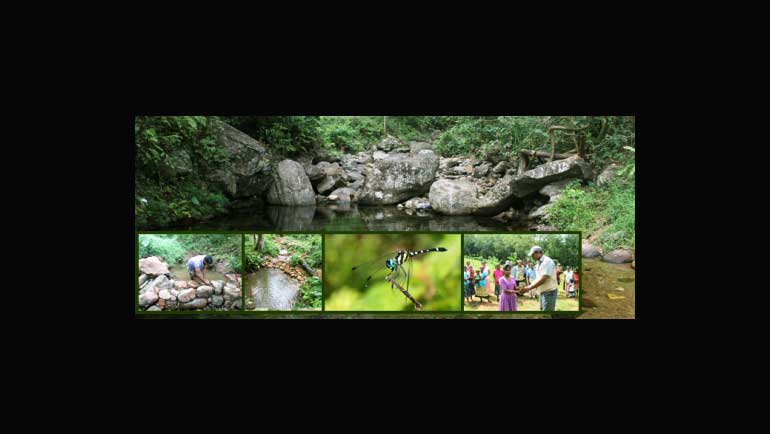 Situated on sloping lands between the towns of Opanayake and Pelmadulla in the Wet Zone of Sri Lanka, is Hunuwela Estate, one of Dilmah's very own. In an effort to fulfill the promise of sustainability within all of Dilmah's operations, Dilmah Conservation, together with the International Union for Conservation of Nature (IUCN), Sri Lanka, conducted biodiversity and water quality assessments in several of Dilmah's tea estates. It was through these surveys that the treasure trove of biological diversity present within Hunuwela estate was discovered.
Home to a total of 282 species of flora and 214 species of fauna, Hunuwela estate is an important repository of Sri Lanka's biodiversity. A significant discovery of the initial biodiversity surveys was the presence of two highly endangered (both nationally and globally) species of dragonfly - the Rivulet Tiger (Gomphidia pearsoni) and Wijaya's Scissortail (Microgomphus wijaya) - along with another 58 endemic and 28 nationally or globally endangered species residing within the estate.
To conserve this biodiversity, particularly the Rivulet Tiger and Wijaya's Scissortail, Dilmah Conservation partnered with IUCN Sri Lanka and carried out extensive conservation activities. These activities included restoration, enhancement and management of watersheds, improvement of water flow in streams, as well as strengthening and enrichment of riparian and riverine vegetation. Furthermore, awareness raising programs were also conducted targeting key stakeholders including Hunuwela estate staff, local community, local government officials and school children. Various awareness materials were also created to be disseminated among stakeholders; these can be viewed on the Dilmah Conservation website.
Inspired by the great success of these initial interventions, Dilmah Conservation and IUCN Sri Lanka aims to continue and upscale these conservation efforts. During the next couple of years, physical interventions will be carried out within the estate to enhance watersheds found within, including construction of check dams, retention ponds, and wetlands. Ecological restoration work will also take place through continued habitat restoration and the establishment of a plant nursery and planting work, as well as through improved connectivity between natural areas. Furthermore, long-term plans will be developed to establish riparian buffer zones. DC and IUCN Sri Lanka will also continue to carry out periodic collection of ecological data as well as regular awareness creation programs. Work is also underway to promote responsible tourism and recreational activities along with the establishment of an educational nature trail in order to minimize damage done by local and foreign tourists.
Dragonflies are an important part of any natural habitat. Both predator and prey, these species are a source of food to many other animals including birds, reptiles and mammals, and perhaps more significantly, they are an efficient control against nuisance and pest species such as mosquitoes (a single dragonfly is able to feed on 30 - 100 mosquitoes a day!). They are also highly efficient indicators of environmental health, being extremely sensitive to the environment and only residing in clean and healthy aquatic habitats. Thus, the preservation of these species is important to the local biodiversity as well as to local communities. In addition, the records of a number of other species at Hunuwela estate represent the very first time they have been observed in this region of the country. Therefore, conservation of the natural and semi-natural habitats of the estate is important for the long-term conservation of Sri Lanka's biodiversity.
Please see More Info in IUCN website.
Disclaimer Notice
These images are copyright protected and can only be used for Dilmah articles with due credit given.