Press release and images on Beautiful and inspiring Dilmah tea inspired moments shared from Dilmah
Menu
Dilmah Food Service
Integrity & Ethics
Dilmah Tea Inspired
Leisure and Hospitality
Knowledge & Training
Online Shop
Beautiful and inspiring Dilmah tea inspired moments shared
2nd, March 2016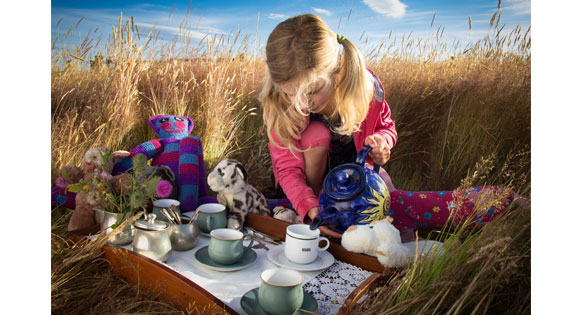 The Tea Inspired Me
photography competition, was crafted with the idea of honouring both the Art Deco Weekend and the oldest beverage in the world, tea. This year the
Tea Inspired Me competition in New Zealand
attracted a staggering 432 entries all of which celebrated tea in everyday settings that were candid and inspiring. Each of the entries received reflected the creativity and how each photographer had truly been inspired by tea. The youngest entrant was just 14 years old and had taken the photograph with an iPhone.  
It was a very difficult task to pick a single winner from the 15 finalists, yet the judges felt that Edith Leigh's entry the Animal Tea Party perfectly captured the pleasure of a simple tea party that brings the joy back to life, which is why she was judged the winner.
"I love tea and my 5 year old loves her toy animals...A perfect morning with my favourite things - tea, photography and my daughter," she explained the concept behind her winning photograph.
Leigh won an all-expenses paid 10 day trip for two, to Sri Lanka.  She will also receive 00 Canon Dollars to spend on photographic equipment.
Merit Award winners of this year's competition were Dominico Zapata for his Moring Surf with Best Mate , Bev Bell for her Shearing Time Smoko, Alessandra Tane for her Hide Away and Callum Greaves for his Tea in Mountains. 
Up to date
Dilmah
has conducted three photography competitions in relation to the Art Deco Festival, with resounding success. Last year's Tea Inspired Me competition was a global event with entries from over 16 countries. The overall global winner was Krystian Kasperowicz from Poland. Country-wise winners were selected as well.
For the Art Deco Weekend last year Dilmah held a Tea in the City photography competition in New Zealand to emphasize the connection between tea and photography through the eyes of photo enthusiasts. Tea Break at Hospice by Alan Wardle was selected as the winning entry, for which he won a trip to Sri Lanka.
He said of his visit, "During a fabulous whistle-stop tour we got to see the coast, the hills, the cool mountains, the heat of Colombo. We sampled good food, lots of tea, great accommodation and met friendly people and saw stunning architecture and landscapes. With photo opportunities around every corner, whoever wins in 2016 is in for a treat to remember."
Disclaimer Notice
These images are copyright protected and can only be used for Dilmah articles with due credit given.