Press release and images on Achieving carbon neutrality while sustaining the environment from Dilmah
Menu
Dilmah Food Service
Integrity & Ethics
Dilmah Tea Inspired
Leisure and Hospitality
Knowledge & Training
Online Shop
Achieving carbon neutrality while sustaining the environment
Dilmah pledges to become Carbon Neutral by the year 2017 and makes an annual commitment of 1 Million USD for the conservation of nature and community empowerment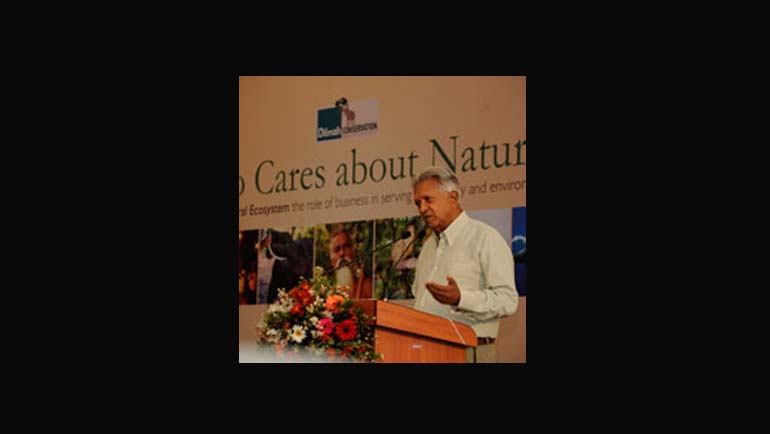 -Who Cares about Nature', a two day event by Dilmah Conservation, focused on the role of business in serving the community and the environment. A key highlight of the programme was the undertaking of a pledgeby Dilmah Founder Merrill J. Fernando to make Dilmah Carbon Neutral by the year 2017 and an annual commitment of 1 Million USD for the conservation of nature and the environment, and community empowerment programmes.
Merrill established Dilmah Conservation in 2007 to support environmental conservation efforts in Sri Lanka and to help make Dilmah a sustainable corporate entity. With the allocation of 1 Million USD, Dilmah Conservation will continue to develop its efforts in mainstreaming sustainability, conserving Sri Lanka's biological wealth, restoring ecosystems, gathering of data, information and facts for the advancement of knowledge, supporting environment and nature education, and empowering indigenous and traditional communities.
The Carbon Neutral plan for Dilmah, as per the study done by Dr. Erandathi Lokupitiya (University of Colombo) and Jagath Vidanagama (National Cleaner Production Centre), consists of comprehensive recommendations for the optimization of the production process and other utilities including transportation, environment and energy management system implementation, conducting training and awareness programmes within the organization, energy and resource efficiency improvement, augmentation of renewable energy sources and the implementation of other emission reduction options.
A 100kw solar unit was installed at the Peliyagoda factory premises in February 2013 as part of an initiative to generate power using renewable energy sources. Dilmah is also working towards neutralizing its carbon emissions through reforestation and afforestation projects, such as the Greening Batticaloa initiative. 100,000 cashew plants were planted with the aim of restoring ecosystems by improving the forest cover in the Batticaloa District and mitigating the negative impacts of deforestation practices. A further 50,000 plants are expected to be planted in its current phase this year. Aside from its ecological benefits, this project will also provide a stable and sustainable income generating opportunity for beneficiaries by facilitating market access. Following its success in the East, the project has been extended to Elephant Pass in the Jaffna Peninsula, where 25,000 plants will be distributed among selected communities.
Dilmah has also taken steps to modify its resource consumption practices in order to achieve a state of carbon neutrality in the coming years. The making of fertilizer with refuse tea will be converted to making -Biochar'. Although a new word, -Biochar' is in fact an old technology that was used by Sri Lankan farmers going back hundreds of years. Now, at the Pelmadulla Tea Estate, a trial sponsored by Dilmah Conservation oversees large sections of the tea crop being treated with -Biochar', reducing their chemical fertilizer intake by 50%, resulting in an improvement in the quality, taste and colour of the tea leaves cultivated. Dilmah will continue to develop and expand its commitment to serving the community and the environment through best practices and strengthening its tradition of sustainable and ethical business.
For more information on -Who Cares about Nature' and the work we do visit
www.dilmahconservation.org
Disclaimer Notice
These images are copyright protected and can only be used for Dilmah articles with due credit given.