Press release and images on A New Experience with Tea for Shangri-La, China from Dilmah
Menu
Dilmah Food Service
Integrity & Ethics
Dilmah Tea Inspired
Leisure and Hospitality
Knowledge & Training
Online Shop
A New Experience with Tea for Shangri-La, China
Participants from Shangri-La Properties around China at the Dilmah School of Tea

The Dilmah School of Tea for Shangri-La participants was held from the 24th- 27th of February 2014 in Colombo. Over 40 participants from Shangri-La properties around China participated in an experience that saw them learning about real tea, its manufacture and its versatility in tea gastronomy and tea mixology.
A special feature at this School of Tea was the focus on digital and social media where participants were encouraged to share their experiences online through Facebook, Twitter, Instagram and other online platforms, using hashtags to tag the different posts. At the end of the programme, prizes were awarded to the most active members on Facebook, Twitter and Instagram.
The four day programme commenced with a breakfast tea session conducted by Dilhan C. Fernando, son of Dilmah Founder Merrill J. Fernando, focusing on pairing food with tea and complementary tastes and textures.  This was followed by a visit to the MJF Centre in Moratuwa where participants joined the children of the centre in football, cookery and handcraft activities.  The participants and children both had an enjoyable morning which was a very rewarding experience for both.  A visit to the home of Dilmah and factory complex was next where participants were able to learn about how tea is tasted and packed. The plantation visit was to the Somerset Tea Gardens which saw the participants being introduced to Camellia sinensis and orthodox tea plucking and manufacture which is crucial for producing real tea with character and quality.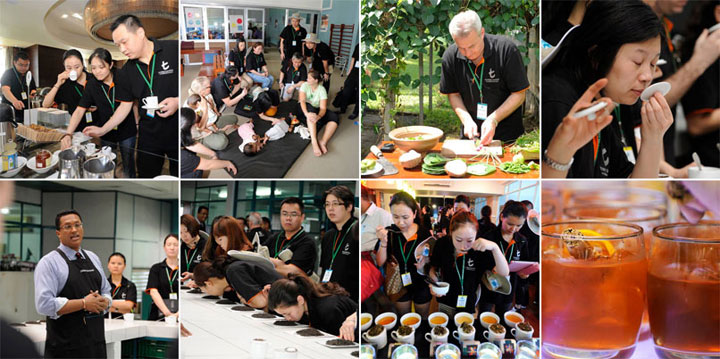 The formal sessions took place on the 27th of February at the Blue Waters, Wadduwa. The programme included a comprehensive examination of the History of Tea, Tasting and Profiling Different Teas, correct Brewing Techniques, Tea Mixology and Tea Gastronomy. The sessions were conducted by Dilhan and Robert Schinkel, Dilmah Tea Mixologist from the Netherlands.  The sessions concluded with a -train the trainers' programme which included presentations by the participants where they will return to their respective properties and in turn conduct tea training.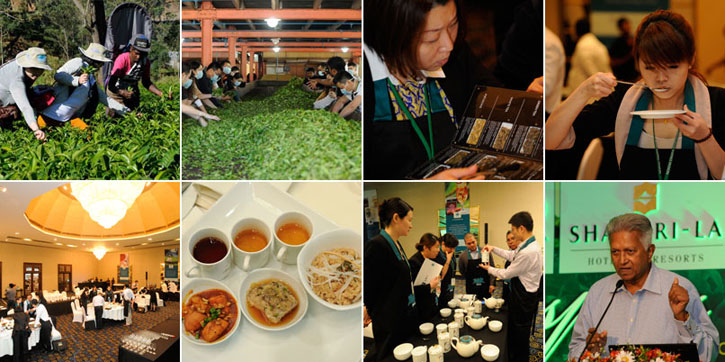 Disclaimer Notice
These images are copyright protected and can only be used for Dilmah articles with due credit given.